You are here: Home > GRP Composite Doors UK Reviews
What do our customers think of our doors and service?
Here you can read reviews from a few of our many customers we have helped improve the look and value of their property with our excellent quality composite doors.
GRP Composite Doors UK
4.9

out of

5
based on
469
ratings from 469 reviews.
Latest Customer Reviews and Ratings
By

Lee Birk

, Chelmsford. Thursday 20 April 2017

I found GRP composite doors on Google and gave them a call. They were very helpful and I was able to order my door very quickly. The price was good as well. When the door arrived i checked it over and now that it is all fixed I am so pleased with it.. Well Done GRP for great service and great quality.

Door Style Purchased: 6 Panel Composite Front Door in Black
By

Richard Dawson

, Coalville, Leicestershire. Wednesday 01 March 2017

I would like to Thank you for supply an excellent composite doors, we are really pleased with it. The Local fitter who you recommended (Jamie) fitted the door in an excellent professional manner.

Door Style Purchased: 4 Square Glazed Composite Front Door in Black
By

Anthony Rampley

, Stone Lea. Wednesday 01 March 2017

We are very pleased indeed, the quality of your service and door construction are absolutely faultless. I ordered and fitted the door myself and found the whole process simple, efficient and good value for money.

Door Style Purchased: Cottage Composite Front Door in Blue
By

Paul Rosher

, Leiston. Wednesday 01 March 2017

The door is now installed and I am very satisfied with it, I purchased a second door from you. Both composite doors were bought in the name of Abbey Properties (Suffolk) Ltd which is the name of the small renovation company I own and run. I think your doors are excellent value for money and you will now be my first port of call for any doors required for future projects.

Door Style Purchased: 2 Panel 2 Square Glazed Composite Front Door in Black
By

Keith Hooson

, Bedford. Sunday 12 February 2017

Thumbturn lock was not supplied. Rang up and received thumbturn 2 days later just as I was fitting the door. The door is heavy (good) so unless you are experienced at fitting heavy doors on your own a second pair of hands to support the weight of the door as you refit the door onto the frame hinges is advisable.

Door Style Purchased: 2 Panel 2 Arch Classic Composite Front Door in Black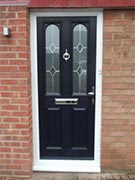 By

Gareth Knowles

, Crowborough. Tuesday 07 Feburary 2017

Only issue was cill was missing on delivery, however wasn't a huge problem, I needed to get door in on delivery day so sourced one locally to suit. Very happy with door, construction and hardware.

Door Style Purchased: 4 Panel 1 Arch Glazed Composite Front Door in Blue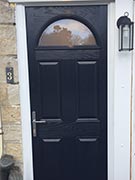 By

Anton Mezzone

, Bognor Regis, West Sussex. Tuesday 24 January 2017

Really is a great door and I could not be happier with it. Your help along the whole process was second to none.

Door Style Purchased: Mid 3 Square Composite Door in Grey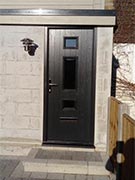 By

Damian Moore

, Coventry. Monday 23 January 2017

Very happy with new purchases from yourselves fitted by myself yesterday looks very smart.

Door Style Purchased: Diamond 3 Composite Front Door in Grey
By

Anne-Marie Rankin

, Norfolk. Thursday 19 January 2017

Thank you so much! I really wouldn't have minded paying for a bit of paint it's so kind of you though! Take care and hope 2017 is a good one for you all at GRP!

Door Style Purchased: Circle Glazed Composite Front Door in Duck Egg Blue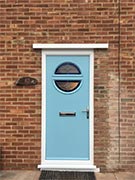 By

Gareth Thomas

, Bargoed. Thursday 22 December 2016

We where amazed at the quality of the composite door it was stunning and fitted perfectly. We were also impressed with your service from start to delivery and would highly recommend your company. We will be buying more from you in the future.

Door Style Purchased: 2 Panel 1 Grill Composite Front Door in Chartwell Green
By

Steve Beckhurst

, Leicester, Leicestershire. Monday 05 December 2016

My new GRP door fitted over the weekend by myself very pleased with the end result. Never fitted a door before but with the instructions supplied I found it relatively easy to do.

Door Style Purchased: 6 Panel Composite Back Door in White
By

Darren Snape

, Leicester, Leicestershire. Saturday 03 December 2016

Extremely happy with the whole purchase and service I received, the door is fantastic and exceeded my expectations. Would not hesitate recommending GRP COMPOSITE DOORS to anyone. Great price and service. Was dreading fitting it myself but from start to finish it took 3.5 hours and saved me around £800, if you are capable of fitting it yourself the savings are enormous. Very happy

Door Style Purchased: 3 Diamond Composite Front Door in Black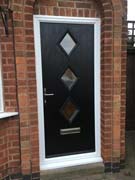 By

James Allan

, Edinburgh, Midlothian. Saturday 03 December 2016

Easy to order, Excellent support, Great communication, Easy free delivery, Fantastic door, What more do you need?

Door Style Purchased: 3 Square Glazed Composite Front Door in Grey
By

Steven Brown

, Birmingham, West Midlands. Monday 28 November 2016

I was very impressed with their customer service, delivery and the overall quality of the door. I'm not a builder and managed to fit this no problem to our extension. My only snag was trying to remove the stickers and residue from the glass afterwards . Other than that I highly recommend GRP.

Door Style Purchased: 2 Panel 2 Square Composite Front Door in Black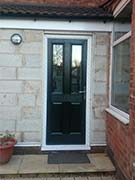 By

David Broxholme

, Thornhill, West Yorkshire. Saturday 26 November 2016

Should be called ronseal they do what they say. Not a door fitter, just a good have a go DIYer, fitted with no problems.

Door Style Purchased: 2 Panel 2 Square Flair Composite Front Door in Black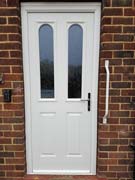 By

Ian Dutton

, Sittingbourne, Kent. Wednesday 23 November 2016

Really pleased with door. It looks great. Service and delivery were excellent. Would highly recommend.

Door Style Purchased: 4 Square Composite Front Door in Black
By

Jane Guvenir

, Bristol, Gloucestershire. Monday 21 November 2016

I am thrilled with my new front door. I did my research and GRP were the best value for money. I ordered my door on line and they rang to check measurements and fittings. They rang me back with a delivery date with a 2 hour time slot which fitted in with my busy schedule. Delivery men were great and carried door through to where I wanted it. My brothers fitted my door in a day and I am thrilled with the overall look and fit.

Door Style Purchased: 4 Panel Sunburst Composite Front Door in Read
By

Adrian Paul

, Knaresborough, North Yorkshire. Thursday 17 November 2016

All round excellent product and service. Found website easy to use and follow up call made sure that the details I entered were correct. Door was delivered on schedule at the agreed time and two guys happily lugged the thing into the garage and waited while I gave it a good look over. Door was well packed and had been made very well and exactly to my specification. I'm not a professional installer by any means but the door went in pretty easily and only required minor adjustment on hinges and catch to enable a very smooth operation. Towards end of installation I noticed an end cap missing from the weather bar (probably lost by me!!) but a quick call ensured a couple more put in the post. Can highly recommend the product and service.

Door Style Purchased: 4 Square Composite Front Door in Grey
By

Margita Vilagiova

, Plymouth, Devon. Tuesday 15 November 2016

We're extremely happy with the service we have received from GRP Composite Doors. Ordering was super easy, I love that you can actually build you door and order it online. We had a phone call next day confirming our order. The gentleman on the phone was very nice. We knew exactly when it will be delivered and it came in the morning on that day. The door was easy to install. The quality is great. We highly recommend your company to everyone. We will gladly use your service in the future. Thank you very much.

Door Style Purchased: 4 Panel Sunburst Composite Front Door in Darkwood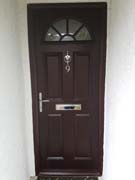 By

Phil Harrison

, Solihull, West Midlands. Saturday 12 November 2016

Fantastic service from ordering to delivery. Highly impressed with the quality and ease of fitting and adjusting. Will highly recommend to friends and family. Thank you.

Door Style Purchased: 4 Panel 1 Arch Abstract Composite Front Door in Black
By

Martin Thom

, Aberdeen, Scotland. Friday 11 November 2016

Very happy with the new front door, good quality. Fan light glass beading required a little adaption to fit, Support & Sales very good Overall I would happily use again & recommend

Door Style Purchased: 4 Square Composite Front Door in Oak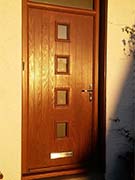 By

Mr I Bennett

, Hampton, London. Wednesday 09 November 2016

I searched high and low to find a composite door without paying the Earth, GRP made to measure from an easy navigational site and delivered exactly when they said they would. now that it is in we love it, it really is superb quality (makes me wonder why others charge so much)! I've already mentioned it to a couple more people and they're about to order too (should charge commission). Absolutely no regrets and get 5 stars from me (and I'm a difficult to please). Thank you

Door Style Purchased: 2 Panel 2 Square Crystal Diamond Composite Front Door in Grey
By

Ahmed Saeed Desai

, Leicester, Leicestershire. Tuesday 08 November 2016

Amazing customer service and the door looks really nice to.

Door Style Purchased: 4 Square Composite Front Door in Black
By

Nick Prince

, Holmer, Hereford. Thursday 03 November 2016

Placed order in the afternoon, had a call back and thankfully the caller suggested a few alterations which I had not thought about so design was changed and confirmed, took just under 2 weeks to arrive, I was called the day before arranged delivery date to confirm the time. Very happy and will use again, excellent door at a good price.

Door Style Purchased: 2 Panel 1 Grill Composite Door in Blue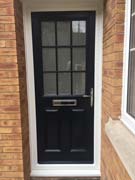 By

Pam Langford

, Baldock, Hertfordshire. Monday 31 October 2016

Great selection of composite doors. Such a large amount of options that I ended up ringing them and it was worth it instead of completing the order online as I got loads of great information from them and made better choices. Really pleased with the look. Delivery was good and the door was well protected for transit.

Door Style Purchased: 2 Panel 1 Grill Composite Front Door in Duck Egg Blue
By

Mr Julian Ventham-Day

, Ashford, Kent. Saturday 22 October 2016

Great choice of door designs and options. Easy to configure your perfect door. Quick delivery on agreed day and time. Excellent quality and easy to fit. Excellent value for money. Very happy customer and have passed on GRP's details to friends and family.

Door Style Purchased: 4 Panel Sunburst Composite Front Door in Black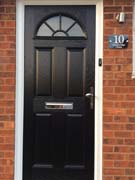 By

Tom Morrison

, Birmingham, West Midlands. Wednesday 19 October 2016

An excellent quality door - looks great and was simple to fit - happy customer

Door Style Purchased: 1 Diamond Composite Front Door in Grey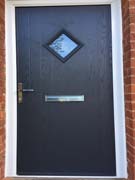 By

Pete Dunn

, Wootton, Bedford, Bedfordshire. Tuesday 18 October 2016

Brilliant service throughout the complete ordering and delivery service. Helpful, knowledgable and polite staff. Our door arrived in just over a week and is brilliant; airtight, secure and looks almost identical to our old cottage stable door but without the worry of draughts, an insubstantial looking system and no more repairs or painting! Price was very competitive. Look no further.

Door Style Purchased: 2 Panel 1 Grill Composite Front Door in White
By

Charlotte Dent

, Grimsby, Lincolnshire. Wednesday 12 October 2016

I found the company very easy to order from, they were quick with delivery and my door looks fantastic, quality is brilliant, fantastic price. We will recommend these.

Door Style Purchased: 2 Panel 2 Square Classic Composite Front Door in Chartwell Green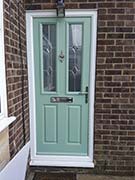 By

Mrs N Freeman

, Cowes, Isle of Wight. Monday 10 October 2016

Excellent quality & quickly delivered. Builder said it was the easiest door he has ever fitted - he was very impressed! We are really, really pleased with the look. Thank you

Door Style Purchased: 1 Square Composite Front Door in Grey
By

Richard Elderfield

, Minster On Sea, Sheerness. Sunday 09 October 2016

A very helpful sales department, the quality of this product was excellent , with a wide range of colours and design choices. The delivery service was on time. So pleased to buy a quality product made in U.K.

Door Style Purchased: Twin Square Murano Composite Front Door in Cream
By

Robert Climas

, Southampton, Hampshire. Sunday 09 October 2016

Great service and a great door. Very very good quality for the price. Very happy indeed. Thank you.

Door Style Purchased: 4 Square Composite Front Door in Black
By

Anya and Clive Cooper

, Belper, Derbyshire. Saturday 01 October 2016

No complaints at all, great service, helpful staff, door delivered within 7 days, top quality at the best price. Very pleased thank you.

Door Style Purchased: 2 Panel 4 Square Classic Composite Front Door in Black
By

Darren Hazell

, St Helen Auckland, Bishop Auckland. Saturday 01 October 2016

Fantastic experience from start to finish. Easy to use website and continued contact regarding requirements and delivery date. Highly recommended

Door Style Purchased: 3 Diamond Composite Front Door in Black
By

Steven Robinson

, Reading, Berkshire. Saturday 24 September 2016

Great company to deal with and great door too. From start to finish the whole process was smooth and delivery was as promised. I'm very pleased with the look and feel of the door. Would definitely use GRP again and would definitely recommend .

Door Style Purchased: 2 Panel 4 Square Composite Front Door In Grey
By

Alex Holman

, Pontllanfraith. Sunday 18 September 2016

Amazing door, all fitted correctly excellent measurements love this site definitley recommended easy to fit and looks amazing.

Door Style Purchased: 4 Square Glazed Composite Front Door in Grey
By

Keith Myhill

, Wilmslow. Wednesday 14 September 2016

I found GRP Composite Doors excellent to deal with. Their user friendly ordering system showing all dimensions is excellent. Delivery was well planned and with good communication from the sales team. The door, fittings and everything was well packaged. The door itself is excellent and the frame is well made and assembled accurately however I was a bit disappointed to realise that the frame and cill is not solid GRP but white UPVC wrapped with a foil overlay that may in time show tears in the wood effect foil. I think that the company should be clearer about this in their adverts. Overall we are very satisfied with the door/frame and will recommend to our friends. A very nice company to deal with who respond promptly to all queries and all at an extremely competitive price.

Door Style Purchased: 3 Diamond Composite Front Door in Oak
By

Gary Openshaw

, Manchester. Saturday 03 September 2016

I don't do reviews but this company deserves one. Easy online configurator offering an instant quote, fool proof ordering method, confirmation call and straight forward delivery arriving when they said. Oh and yes, the doors are top quality and look great. A genuine, good service with a great product.

Door Style Purchased: 2 Panel 2 Square Crystal Diamond Composite Front Door in Black
By

Mr Saltmarsh

, Hythe. Friday 26 August 2016

Excellent service and advice throughout. Door was actually delivered 5 mins early 7.55am time slot 8.0 till 10.0 Product was well protected and no damage the only problem I had was glazing the side-panel which in hindsight I think was down to the fact that the glass panel was so narrow that there was not a lot of give in the rubbers apart from that the door looks great. Thanks for the service.

Door Style Purchased: 2 Panel 2 Arch Flair Composite Front Door in Green
By

Sarah Appleton

, Wantage. Friday 19 August 2016

Excellent service from GRP Doors. I had a few enquiries prior to ordering, which were handled quickly and professionally over the telephone. Delivery was on time and the driver was very helpful, my fitter was impressed with the door and the price! Five stars all round.

Door Style Purchased: 2 Panel 1 Grill Composite Front Door in Chartwell Green
By

Darren Palmer

, Kent. Monday 15 August 2016

Cant fault the service I received. Door ordered on the Monday, followed by a courtesy call. Friday midday, I took the old door out, had a cup of tea and the new door arrived perfectly on time. Within two hours Id fitted, sealed and adjusted the door! The quality is great, and it looks very smart. Price was also the best I could find. I wouldn't hesitate to recommend GRP composite doors! Thanks!

Door Style Purchased: 2 Panel 2 Square Glazed Composite Front Door in Black
By

Martyn Welburn

, Buxton. Tuesday 09 August 2016

Cannot fault this company. From ordering, to customer service, to fast production and delivery. The entire process took just over a week. Made exactly to my size and spec. Delivery time was arranged at a convenient time and was delivered on time by 2 helpful delivery guys. Product quality is excellent, my door came with 5 keys so no need to have additional cut. Many thanks GRP I would definitely use you again.

Door Style Purchased: 2 Panel 2 Angle Crystal Diamond Composite Front Door in Black
By

Ray Hardiman

, Ilford. Monday 01 August 2016

Was not to sure about ordering on line but the quality was excellent the door was so easy to fit and looks great better than i expected, delivery was the day I wanted and on time, my only problem was fitting the glazing beads on the top light could have done with some instructions but after a bit of head scratching I sorted it, but overall any competent D.I.Yer can fit these doors and save on labour costs.

Door Style Purchased: 2 Panel 2 Square Classic Composite Front Door in Darkwood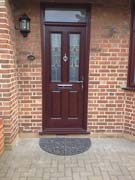 By

Tina Bones

, Wickford. Monday 01 August 2016

I have just had my composite door fitted and was very please with the result. I would recommend you company if anyone asked where I got the door from. The service was excellent and was very pleased with the person I spoke to on the telephone when I ordered. No complaints

Door Style Purchased: 4 Panel 2 Square Abstract Composite Front Door in Black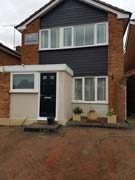 By

Elizabeth Humphries

, Colchester. Friday 29 July 2016

The customer services team were very helpful when discussing our requirements and options. The door is good quality and looks very smart.

Door Style Purchased: Cottage Half Glazed Composite Fire Door in White
By

Adam Kearsley

, Southport. Thursday 21 July 2016

Absolutely made up with my new door, I purchased the '2 Panel 1 Arch Elegance Composite Front Door' in black. I received a phone call from a helpful and informative member of staff. Payment was no issue, delivery was quick and very good. The door is absolutely stunning, very heavy duty, seals the frame well and I can already feel the difference in heat and no drafts! My joiner was very impressed with the quality and couldn't believe the price. After fitting it saved me around £200+ when compared to local door companies with fitting. The standard YALE lock is very high quality, even the keys are heavy, can't believe you get 5 keys too! The entire thing looks and feels quality and solid, will definitely be recommended to friends and family, had lots of comments on the door already! Thanks again!

Door Style Purchased: 2 Panel 1 Arch Elegance Composite Front Door in Black
By

Ray Gibbs

, Dorking. Sunday 17 July 2016

Glad I bought the adjustable hinges! Installation instructions don't tell you the door comes locked, but the lock is separate. Slip the lock in and unlock the door.

Door Style Purchased: 2 Panel 2 Square Glazed Composite Front Door in Oak
By

Steve Faulkner

, Bewdley. Thursday 14 July 2016

We spent a couple of weeks shopping around local door suppliers getting various quotes and time estimates the cheapest of which was more than twice the price of GRP and had a lead time of three weeks because we wanted 'special' glass. GRP supplied us the exact same style door with our 'special' glass design as standard within 5 days. The whole process was very simple, I followed the measuring guide, chose the door type, colour, door furniture and lock upgrades and placed the order on a Sunday afternoon. The next morning I received a phone call to confirm my requirements and was given a further 24 hours to make any changes before the door went into production. This was useful because my other half decided to change the lock, I receive regular e-mail updates and on Thursday was called to arrange 2 man delivery for Friday morning. The only slight issue was that the fixing kit was shipped separately and got delayed in the post, but we had to wait a few days for good weather before changing the door anyway. Having familiarised ourselves with the fitting instructions and made sure we had all the tools we needed we set about taking out the old door, which was the hardest part, the new door went in very easily and after spending some time making sure it was level in all dimensions fixed it to the wall and then fitted some white PVC trim from a DIY shop to finish it off, the whole thing took a morning and saved us over £1000. We've had loads of great comments from neighbours and can't recommend GRP enough for their service and quality.

Door Style Purchased: 2 Panel 2 Square Classic Composite Front Door in Black
By

Gary Higgs

, Pinner, Middlesex. Wednesday 06 July 2016

GRP were great and I have already recommended them to family and friends. They called me immediately after ordering to go through all the details with me and ensure everything was correct. Delivery was within a few days and I was called ahead of time to confirm a delivery slot. The door arrived very well packaged and protected, along with instructions and info on how to take care of the door. Very impressed with both the quality and service.

Door Style Purchased: 4 Panel Sunburst Composite Front Door in Blue
By

Glynn Williams

, Barton-under-Needwood, Burton-on-Trent. Thursday 30 June 2016

Excellent all round product and service. I would recommend GRP every time - and don't be nervous about ordering on-line!

Door Style Purchased: 4 Square Flair Composite Front Door in Grey
By

Ms G Denton

, Leeds. Wednesday 22 June 2016

Fantastic service with high quality products at a great price and a super fast delivery which arrived bang on time! Couldn't recommend enough! Love my new door and finally feel safe in my home, thank you.

Door Style Purchased: 4 Panel 1 Arch Finesse Composite Front Door in Black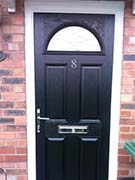 By

Steven Connolly

, Caerphilly. Monday 20 June 2016

Very pleased with the whole process from designing to purchase of new front door. Could not fault the service received and the quality of the new front door. Highly recommend and will definitely use GRP Composite doors again.

Door Style Purchased: 2 Panel 2 Square Crystal Diamond Composite Front Door in Darkwood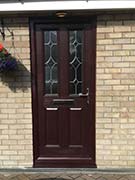 By

Richard Barker

, Nailsea, Bristol. Monday 13 June 2016

Good door with all the parts and accessories delivered on time and fits as expected. Very satisfied customer.

Door Style Purchased: 4 Panel Solid Composite Front Door in White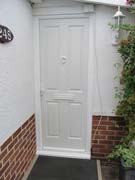 By

Aaron Robinson

, Portchester, Fareham. Saturday 11 June 2016

Fantastic quality door that was easy to order with all the extras clearly priced out. Fast delivery and really well packed with clear instructions.

Door Style Purchased: 2 Panel 2 Square Glazed Composite Front Door in Black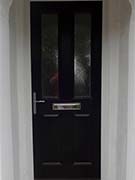 By

Pamela Spencer-Phillips

, Chepstow. Saturday 11 June 2016

I love my new composite doors. The colour is just what I wanted. I thought very hard about the glass I wanted (there was so much choice), I certainly made the right choice. I found the website very easy to use, service and delivery were excellent. I certainly would recommend this company.

Door Style Purchased: 2 Panel 2 Square Zinc Art Clarity Composite Front Door in Chartwell Green
By

David Young

, Kingsnorth, Ashford. Thursday 09 June 2016

Delivery was quick just over a week with a bank holiday in between, and arrived in the time slot, great customer service, very happy with my new back door.

Door Style Purchased: 2 Panel 1 Square Glazed Composite Front Door in White
By

Emma Surry

, Sandy, Cambridgeshire. Wednesday 08 June 2016

Very impressed with the speed of delivery, great customer service and of course quality of the doors. I asked for a cherry wood cill to match our existing back door as we ordered a new replica door for our garage, and GRP Composite Doors were more than happy to help. Thank you very much, we love our new door and highly recommend your company.

Door Style Purchased: 2 Panel 1 Square Glazed Composite Front Door in White
By

Dave Ellard

, Daventry. Tuesday 31 May 2016

Extremely pleased with our new front door, the quality is 100%. Delivery was smooth as they give you a time slot so it's not a matter of waiting in all day. The door is perfect and the customer service was very good. We fitted it ourselves in under 4 hours including the removal of the old door so don't be scared to do it yourself. We saved ourselves over £500 by going direct. Thank you.

Door Style Purchased: 2 Panel 2 Square Crystal Diamond Composite Front Door in Oak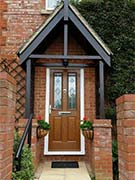 By

Joseph Studholme

, Buckshaw Village, Chorley. Tuesday 24 May 2016

Quality door delivered exactly as specified. Due to the weather I did not unpack for 3 weeks. When I did 2 days before installation, I noticed the cill was missing. It was shipped out on a Saturday am delivery no questions asked. Cannot rate the service highly enough.

Door Style Purchased: 4 Panel 2 Square Glazed Composite Front Door in Blue
By

Mary Kay-Anderson

, Musselburgh, East Lothian. Sunday 22 May 2016

Received my door in the time stated, customer service was second to none, as for the door the quality was great, I am so happy with it and would recommend this great company to anyone looking for a good quality door and great customer service.

Door Style Purchased: 3 Diamond Composite Front Door in Black
By

Karl Sherratt

, Woodville, Derbyshire. Sunday 22 May 2016

So pleased with our new front door, the quality is 100%. Delivery was smooth as they give you a time slot so its not a matter of waiting in all day. Even with our wonky door opening (got to love new house workmanship) the door was perfect and the customer service was very good after I asked some very amateur questions. We fitted it ourselves in under 5 hours inc removing the old door so don't be scared to do it yourself. As the door is pre hung we never had to alter a thing it just works. Back door next. Thank you.

Door Style Purchased: 4 Square Glazed Composite Front Door in Black
By

Marc Finnigan

, Ratby, Leicester. Wednesday 18 May 2016

From start to finish, a very easy process. Sent through details via the online service, was then called by the team to verify the measurements for the door, along with some sound advice (which saved me money). Door delivered very quick as I was on a timeline to fit. Cannot speak highly enough of the service provided by GRP.

Door Style Purchased: 3 Square Glazed Composite Front Door in Black
By

Mr Pocock

, Plymouth. Tuesday 17 May 2016

We ordered online because it so much better value then ordering locally. The door is very nice and we have had a lot of compliments. Thank you for a great service.

Door Style Purchased: 4 Panel 1 Arch Glazed Composite Front Door in Blue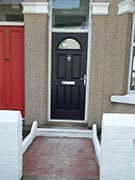 By

Pete Reeves

, Totnes, Devon. Thursday 12 May 2016

GRP composite doors are a great company to work with. First rate doors that are very well manufactured and designed. Just as important when we needed to tweak the fitting with some additional parts they sorted out the problem straight away. Highly recommended!

Door Style Purchased: 3 Square Glazed Composite Front Door in Grey
By

Peter Scopes

, Colchester, Essex. Sunday 01 May 2016

I was overawed at the quality of the door and the process was just so easy! This is the first time I have tried doing a job like this myself, and I cant believe how well it went. No lifting the door to get it to lock, no draughts and so much quieter than the horrible old thing we had before. Thank you and so very highly recommended.

Door Style Purchased: Circle Murano Composite Front Door in Red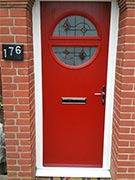 By

Eamonn Donnelly

, Harrow, Greater London. Saturday 30 April 2016

Excellent service, very pleased with my new composite door, very prompt delivery.Makes the inside and outside of the house look a million dollars Thanks Again

Door Style Purchased: 2 Panel 2 Arch Finesse Composite Front Door in Black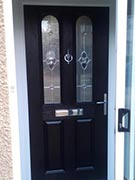 By

Antony Keable

, Burton On Trent, Staffordshire. Friday 29 April 2016

Bought this door to replace the old one at my Mother-in-Law's house. We are all extremely pleased with both the quality and high standard of it. It really does make a huge difference to the look of the house. Communication was excellent and delivery very quick. Couldn't fault this Company or the product.

Door Style Purchased: 2 Panel 1 Arch Brass Art Clarity Composite Front Door in Chartwell Green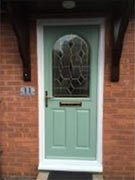 By

Mr M Haslam

, Nantwich, Cheshire. Monday 25 April 2016

Really apprehensive when placing my order due to the great price but all my fears were gone when the door was delivered. My fitter even said what good quality the door was for the money pictures don't do the door justice Thanks GRP.

Door Style Purchased: 3 Diamond Composite Front Door in Chartwell Green
By

Adam Dean

, Belper, Derbyshire. Sunday 24 April 2016

Couldn't be happier with the door great price. Good communication. There was a slight mark on the trim around the glass but they sent some touch up paint sorted in a minute.

Door Style Purchased: Circle Abstract Composite Front Door in Chartwell Green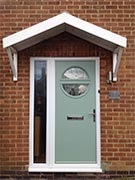 By

Ashley Jansen

, Hastings, East Sussex. Saturday 23 April 2016

Excellent quality and great value for money. Customer service was spot on - very efficient and polite. Will definitely use again!

Door Style Purchased: 1 Diamond Composite Front Door in White
By

Lauren Palmer

, Manningtree, Essex. Tuesday 19 April 2016

We decided to get a new, smarter front door for our business premises and had one on order on the first day of enquiring. The staff were very helpful, efficient and knowledgeable. The choice of door and colour was very wide and allowed us to choose exactly what we were after. The quality of the door is brilliant and it looks very smart! the only slight hiccup was when the door got damaged before it was shipped to us, so delivery was delayed by a few days as they had to get a replacement one. Other than that, GRP were a great company, with great quality doors and I would recommend them to anyone.

Door Style Purchased: 1 Square Composite Front Door in Blue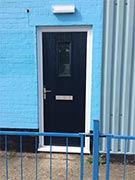 By

Josephine Scriven

, Cheltenham, Gloucestershire. Sunday 17 April 2016

Great choice, price, quality and service. Amazed did not have to pay until after follow up phone call to confirm order details. Excellent in keeping customer informed and doing things in specified time frame. Here are the before and after photos which say it all!

Door Style Purchased: 4 Panel Sunburst Composite Front Door in Black
By

Jenna Greenwood

, Littleborough. Monday 11 April 2016

Very pleased with my lovely front door! Excellent customer service team who were able to advise me on exactly which size door / side panel and top window to order. Ordering was easy and the builder I used to fit my door was really impressed with the quality. Thanks so much!

Door Style Purchased: 4 Panel 2 Square Elegance Composite Front Door in Chartwell Green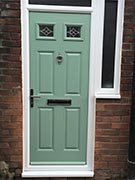 By

Nicola Pendlebury

, Birmingham, West Midlands. Monday 11 April 2016

Overall I am really happy with the purchase of my composite door. Good quality products at a good price. Service and delivery was really good too, with the door arriving in less than a week.

Door Style Purchased: Circle Glazed Composite Front Door in Chartwell Green
By

David Fenton

, Leigh. Monday 04 April 2016

Arrived in great time and was straight forward to fit and adjust. Looks great and we can feel the benefits already!

Door Style Purchased: 3 Square Glazed Composite Front Door in Grey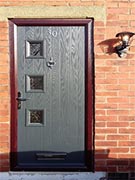 By

Colin Williams

, Rochester, Medway. Saturday 19 March 2016

Very pleased with the quality of the door, the excellent service and delivery. My questions on installation were dealt with expertly and with politeness. The installation went smoothly, and most of the time was spent ensuring the frame was square, level and upright, so that the door closed and locked without problem. Thoroughly recommended.

Door Style Purchased: 4 Panel 2 Square Abstract Composite Front Door in Oak
By

Matthew Bowden

, Epsom, Surrey. Thursday 17 March 2016

Fantastic service. Extremely efficient delivery. Customer service was superb. We had a question regarding installation which was answered very quickly by very knowledgeable staff. I got the door installed by a friend who has been a window and door fitter for many years, he was amazed at the great quality of the door considering the very reasonable price. Would highly recommend!

Door Style Purchased: 2 Panel 2 Square Glazed Composite Front Door in Black
By

Steve Mann

, Swadlincote, Derbyshire. Wednesday 16 March 2016

We are absolutely delighted with every aspect of the service provided by GRP Composite Doors. The website is easy to navigate and simple to use in designing the door. Your sales staff know their product and the delivery crew were courteous and careful. After design, we received a prompt follow up call to check over the details, something which really made all the difference. Even though our installation was being done by a professional, your staff explained details to him about the left & right addon profiles and due to the low profile compared to other doors they weren't required. The door fitted perfectly and the quality is 1st Class. Our builder hadn't heard of you before but assures me that from now on you will be his 1st choice for his customers. Thank you to ALL at GRP, we will be designing at least one, possibly two more doors from you in the near future for our home.

Door Style Purchased: 1 Diamond Composite Front Door in Black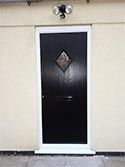 By

Mrs Susan Guest

, Sheerness, Kent. Tuesday 01 March 2016

We were really impressed with the front door you have supplied to us and also the all-round service you provided. Just love the effect the circle abstract glass gives. Have had lots of comments already from people passing by the house.

Door Style Purchased: Circle Abstract Composite Front Door in Oak
By

Lee Paisey

, Bath, Somerset. Saturday 27 February 2016

Great customer service got called back within two days to confirm my order. When order was confirmed the door only took one week to come. Well impressed.

Door Style Purchased: 4 Panel Sunburst Composite Front Door in White
By

Alison Martin

, Watford. Saturday 27 February 2016

The new door was a surprise gift for a friend's 40th birthday and she is absolutely thrilled. It looks stunning and she is surprised how much difference it makes in terms of sound and heat-proofing the house. I was surprised that the numbers we paid for had to be fixed on, and there was a minor issue with the top light box beading. But other than that, the customer service was excellent as was the delivery. I would definitely recommend. The door really does stand out in terms of quality and appearance.

Door Style Purchased: 4 Panel Sunburst Composite Front Door in Grey
By

Valle Fernandez

, Cardiff. Sunday 21 February 2016

Absolutely delighted with this door. Excellent quality and it has given my house a lift! Company guys very helpful, they called me five times to double check measurements. Highly recommended!

Door Style Purchased: 2 Panel 2 Square Crystal Diamond Composite Front Door in Black
By

Mr Reynolds

, Edinburgh. Tuesday 16 February 2016

Happy with the door, however when ordering the door I said that I was on the top floor of flats. I was told this wouldn't be a problem. When the door arrived the drivers wouldn't take it up the 3 floors. This wasn't mentioned when ordering. The door however is really good quality and looks great. The fittings are of a high quality and happy with the door.

Door Style Purchased: 4 Panel 2 Square Glazed Composite Front Door in Red
By

Rob Hobson

, Holmfirth, West Yorkshire. Saturday 13 February 2016

Bought a composite front door and have to say a very good experience. Communication was excellent and everything ran smoothly from order to delivery. Very pleased thanks.

Door Style Purchased: 6 Panel Composite Front Door in Black
By

Lisa Flude

, Soham, Ely. Thursday 11 February 2016

Really pleased with not only the quality of the door but the service I received. Very helpful and patient on the phone when they called to confirm everything with me. Highly recommend ordering from this company!

Door Style Purchased: 3 Square Glazed Composite Front Door in Grey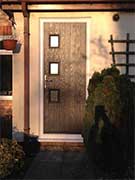 By

David Hosea

, Rushden, Northamptonshire. Monday 01 February 2016

As advised I have sent pictures to confirm my installations of your composite doors - which are a great product, your pre and after sales service has been great too!

Door Style Purchased: 2 Panel 1 Square Glazed Composite Front Door in Black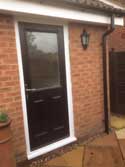 By

Max Budall

, Pinner, Greater London. Tuesday 26 January 2016

Very pleased with the new door, so much so that I will be replacing another door too. Delivery took longer than indicated on the website but this was on account of the glass specification I selected.

Door Style Purchased: 4 Square Glazed Composite Front Door in White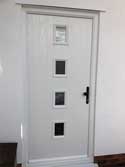 By

Mr Peter Jones

, Farnborough, Hampshire. Jan-16

Fitted this lovely new door to an older persons property who was concerned about safety and security, when he saw the end result he was totally thrilled!

Door Style Purchased: 2 Panel 2 Square Glazed Composite Front Door in White
By

Mr Luke Boswell

, Southampton, Hampshire. Jan-16

We were so happy with service and build quality with back door we received, we then decided to order a front door as well. The same high level service as before on the phone, quick easy process.

Door again turned up in perfect condition on time. We went for 2 panel 2 square glazed front door in grey, again very solid and secure feel to the door. Since fitting the it amazes me how much road noise gone very good acoustic properties.

Very happy, highly recommend.

Door Style Purchased: 2 Panel 2 Square Crystal Diamond Composite Front Door in Grey
By

Mr Robert Palmer

, Cheddar, Somerset. Dec-15

We are very pleased with our new front door, all arrived in good time and was easy to fit. The door and handles etc feel extremly solid and are of excellent quality, would definitely recommend!

Door Style Purchased: 4 Square Finesse Composite Front Door in White
By

Alex Tasker

, Shrewsbury, Shropshire. Dec-15

Top quality door at excellent price fitting was a doddle took me and a friend 2 hrs in and out, highly recommended.

Door Style Purchased: 3 Square Finesse Composite Front Door in Black
By

Jolene Forrest

, Huddersfield, West Yorkshire. Dec-15

From start to finish we received a brilliant service. Order form for the door was easy to follow. They phoned the following day to arrange delivery and it came within 7 days which was quicker than I expected. Door looks fab. Would recommend to a friend /family.

Door Style Purchased: 1 Diamond Composite Front Door in Poppy Red
By

Martin Johnston

, Duxford, Cambridge. Dec-15

We are very impressed with the composite door. It was delivered on time and safely packaged. It was fitted by our builder, who also commented favourably on it. We particularly like the design, colour and security features. Visitors also like the door.

It has certainly reduced heat loss to the house. The only dissenter is my cat, who is scared of the 'swishing' noise the door makes when we open it!

Door Style Purchased: 3 Square Glazed Composite Front Door in Oak
By

Geoff Webb

, Hoddesdon, Hertfordshire. Dec-15

Great value, great service and great product. Comes with fitting instructions for those who have never fitted one before. Overall very pleased.

Door Style Purchased: 4 Square Glazed Composite Front Door in White
By

Nick Dade

, Teignmouth, Devon. Dec-15

Excellent quality door for a good price. The company made a slight error with the manufacture but righted the issue quickly and efficiently. I'd thoroughly recommend. Our friend (the builder who fitted the door) was very impressed and has already been recommending you to his customers. Thank you

Door Style Purchased: 1 Square Composite Front Door in Red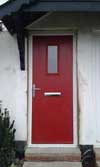 By

Claire Jasinski

, Thornaby, Stockton-on-Tees. Dec-15

Very impressed with customer service and quality of the door. Saved a fortune when compared prices with other companies. This has definitely given the front of my home a makeover. Highly recommended, thank you!

Door Style Purchased: Circle Abstract Composite Front Door in Oak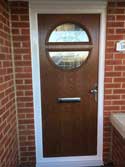 By

Mark Yates

, Sandhurst, Bracknell Forest. Dec-15

Was very impressed with the build quality of the door. The white-on-the-inside finish is so much brighter than our old solid wood door. The lock and mechanism feels very sturdy. Having 5 keys is great so we can have spares and give ones to the parents who visit.

Our builder was also able to assemble and install the door with no fuss at all. The website definitely made the ordering of the door very easy given the dozens of options from door styles to handles, letterboxes, side lights, glazing options and side-lights.

What was convenient for us with the building work we had was the fact that the door was ready in about 12 days (when a high-street shop was telling us they couldn't do anything in under 6 weeks! The fact that the door (including side-light) was under £900 was just the icing on the cake! Highly recommended!

Door Style Purchased: 4 Square Glazed Composite Front Door in Darkwood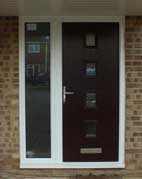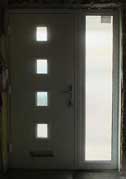 By

Howard Roseman

, Hatfield, Hertfordshire. Dec-15

door arrived on time and the service you could not fault . The company help you with all the styles and if you have a query with the size they tell you how to measure . very very helpful company and a lot cheaper. Also easy to fit yourself

Door Style Purchased: 4 Panel 1 Arch Classic Composite Front Door in Red
By

Mike Digby

, Herne Bay, Kent. Dec-15

Usually I am the first and loudest to complain when things are not as expected, the door I bought from you was as good as if not better than expected just thought I had to email to say how pleased I am with it, my builder who fitted it said what great quality it was and a bargain at the price.

I would certainly recommend you to anyone thinking of buying a composite door. Please feel free to use this on your website if required. You can also give my contact details to anyone asking for a reference.

Door Style Purchased: 1 Square Composite Front Door in Black
By

Andy Bradbury

, Poulton-le-Fylde, Lancashire. Nov-15

I was very pleased with the service, delivery and communication. A few days after my order was confirmed I had to change the cill design- this was no problem at all. Also on the day of delivery I had an emergency that meant I had to be out- that was no problem and my door was left in a safe place for me. I was very pleased with the door and fittings pack and I would definitely use GRP Composite Doors again. Thanks!

Door Style Purchased: 2 Panel 2 Square Drop Diamond Composite Front Door in Blue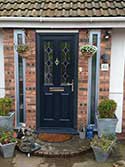 By

Kevin Rawlinson

, Tyldesley, Manchester. Nov-15

I have already recommended you to a friend and will continue to do so. You have supplied two front doors for me and I am 100% satisfied with your customer service and product. I am a landlord and will at some point be replacing other doors and will be using this company.

Door Style Purchased: 6 Panel Composite Front Door in Black
By

Andy Taberner

, Ashton-in-Makerfield, Wigan. Nov-15

Purchased a new door for my house to garage. It looks amazing and really goods quality. I would recommend GRP. 5 starts all round

Door Style Purchased: 6 Panel Composite Front Door in White
By

Tiffany Dale

, Reading. Nov-15

So pleased with my new composite door. Colour is great and quality flawless. GRP provide composite doors at great value as I carried out numerous searches for supply only prices and they were coming out at almost double the price of GRP's doors for the same door design! The service is very impressive, the company are very responsive and keep you updated at all times. The 2 hour delivery slot was arranged at a time to suit and delivered on time by friendly team.

My own professional installer was equally impressed with the door's quality, price and ease of fitting and I believe he is even going to contact GRP doors to try set up an account. Highly recommended *****

Door Style Purchased: 4 Panel Sunburst Composite Front Door in Duck Egg Blue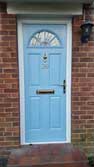 By

Stephen Ennis

, Worcester. Nov-15

Great website and easy to order. Door arrived on time after confirmation phone call the afternoon before. Door was extremely good quality and upgrade hinges very easy to adjust. Overall very pleased and would recommend to family and friends.

Door Style Purchased: 2 Panel 1 Square Glazed Composite Front Door in White
By

Ben Aires

, Bungay, Norfolk. Oct-15

Unbeatable price for our new front door. Good quality door and looks really smart and feels very solid.

Door Style Purchased: 1 Square Composite Front Door in Grey
By

Rob Stapely

, Bognor Regis, West Sussex. Oct-15

Very happy with every aspect of dealing with grp composite doors, they were a pleasure to deal with taking time to answer my queries. And we're spot on with time scales and delivery, the build quality of the door is fantastic too. I can't recommend them highly enough.

Door Style Purchased: 1 Square Composite Front Door in Chartwell Green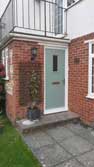 By

Cedric Thrupp

, Birmingham, West Midlands. Oct-15

Hello GRP Doors, thank you for your excellent quality and after sales service, I am including a picture of my front door for your own use if required, thanks again.

Door Style Purchased: 4 Panel 1 Arch Elegance Composite Front Door in Blue
By

Phil Davies

, Kildwick, Keighley, North Yorkshi. Oct-15

Service is very good. The door quality is good, but I've only given 4 stars because I think the frame should be more rigid. With the door removed or open, the sides of the frame are very flexible and tend to bow inwards. Care is required on installation to avoid them being fixed in this shape. I would like to have metal reinforcement in the frame.

Door Style Purchased: 1 Square Composite Front Door in Chartwell Green
By

Steve Peckham

, Exeter, Devon. Sep-15

Although the door arrived a week later than originally advised it didn't cause me any issues . I received a phone call the day before giving me a 3 hour time slot for delivery and it arrived on time as planned so I didn't have to take the whole day off work which was great Packaging very good, installation instructions excellent and overall very happy with my purchase and since its been fitted I've had some complimentary comments from the neighbours !!

Door Style Purchased: 1 Square Composite Front Door in White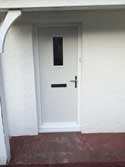 By

Nici Grace

, Liverpool, Merseyside. Sep-15

Great door, lots of options for extras; I got knocker with spyhole, letter box and chrome numbers, I have had lots of compliments on my door and neighbours asking where it's from! Only downside is that the caps either end of the coloured bar that sits over the exterior cill have both come loose.

Door Style Purchased: 4 Panel 1 Arch Glazed Composite Front Door in Black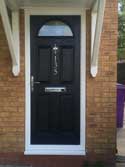 By

Mr Roger Ray

, Goole, East Riding of Yorkshire. Sep-15

Love the door and after a phone call installation went well. On line instructions need updating re fixing positions (10 fixing points but only 8 dog screws in the fixing kit). Rain strip damaged on unpacking but it is to be replaced. Hopefully it is an easy job. Friendly responsive company who care about customer satisfaction.

Door Style Purchased: 1 Diamond Composite Front Door in Duck Egg Blue
By

Wahil Omari

, Barnet, Greater London. Sep-15

Good quality door, all fixtures and fittings look solid and arrived on time without any issues. Would recommend to others.

Door Style Purchased: 4 Square Glazed Composite Front Door in Oak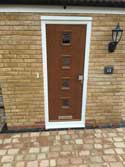 By

Mrs Wall

, Gateshead, Tyne and Wear. Sep-15

I was slightly apprehensive about ordering a door online but the quotes from local door companies were far too expensive. I placed the order and within an hour I got a call back from a very friendly and helpful man who double checked everything on the order form before taken payment.

Our door was delivered within 2 weeks and the quality and style exceeded my expectations. LOVE IT! Lots of compliments and would recommend GRP everytime. Thanks : ))

Door Style Purchased: 3 Diamond Composite Front Door in Duck Egg Blue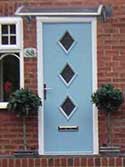 By

Mr Campbell

, Holmfirth, West Yorkshire. Sep-15

Excellent service from placing order to delivery. Great communication throughout. Product as described, easy to fit and looks great!

Door Style Purchased: 6 Panel Composite Front Door in Black
By

Rhys Davies

, Duffryn, Newport. Aug-15

After getting expensive quotes from local companies around South Wales, I started searching the internet. Came across this website and after using their excellent website to design a door, I decided to order. The order was followed up by a professional and polite phone call the next day to check my order was correct. This is followed up by an email for you to check and you then have 24 hours to change your order if required.

It took just under two weeks to arrive and was fitted by a local joined a few days later. The door looks fantastic and is far superior than what was fitted when the house was first built. I paid 640 pound for the door complete with frame and a further 200 pound for fitting. A saving of nearly 400 pound compared to my aforementioned quotes.

Would recommend this company to anyone, but ensure you are happy with the measurements your supply. Thanks Guys and Girls at grpcompositedoors.com.

Door Style Purchased: Circle Classic Composite Front Door in Chartwell Green
By

Ian Marriott

, Oxford. Aug-15

Very impressed with the quality of the door, very solid and well built. Having a two hour delivery slot saved having to wait in all day. Door was made to the millimetre of specified size, perfect fit.

Door Style Purchased: 2 Panel 2 Square 1 Arch Glazed Composite Front Door in Darkwood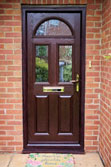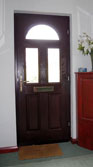 By

David Fairhurst

, Cookham, Maidenhead. Aug-15

Having successfully fitted a back door I decided to replace the front door and two side panels. It was straightforward. The construction is solid and it looks really good.

Door Style Purchased: 2 Panel 1 Square Glazed Composite Front Door in White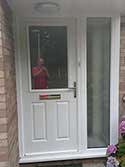 By

Debbie Demetriou

, Hemel Hempstead, Hertfordshire. Aug-15

After spending weeks researching composite doors online I am thrilled to have found GRP composite doors. The order process couldn't have been simpler and I was very impressed with the phone call to discuss and check every element of the order including measurements and upgrade options.

Delivery was super quick - and having been given a 2 hour time slot from 8-10am, I was amazed to find 2 delivery men on my doorstep at 7am (very handy if you need to get to work) I employed fitters to install the door (which they did very quickly) who were as impressed as I with both the overall quality and the price.

I have already recommended GRP to a number of friends and would certainly use them I the future if I ever have the need.

Door Style Purchased: 3 Diamond Composite Front Door in Duck Egg Blue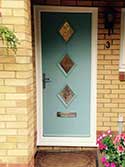 By

Oliver Griffin

, Crowthorne, Wokingham. Jul-15

It's always difficult buying something you haven't seen. But most composite doors look alike and we've seen a few in local shops. We are very pleased with what we purchased from GRP Composite Doors. They seemed to be good value for money compared to other suppliers.

It's a nice looking door in a colour that was just what we wanted. I installed it myself, I'm quite competent but any moderate DIYer could install a composite door as it comes as one piece to screw to your surround. Would definitely recommend composite doors from this supplier to others and my neighbours thought it looked good and he's a wooden window manufacturer.

Door Style Purchased: 4 Square Glazed Composite Front Door in Darkwood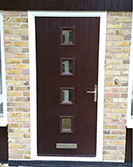 By

Kevin Bennett

, Nottingham. Jul-15

Very pleased with door, great price and delivery on time. Fitted easily and looks great. Did have a bit of difficulty in fitting glazing beads, but put this down to their size as they were small so made it difficult to bend them in. Had to run some sand paper over top edge of the door to clean up sharp edges. Very pleased and would definitely use again and recommend.

Door Style Purchased: 2 Panel 2 Square Glazed Composite Front Door in Blue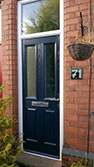 By

Kevin Rawlinson

, Tyldesley, Manchester. Jul-15

The service, delivery, was spot on. I have passed the company details onto other members of my family. I am also ordering more doors from this company as I have several rental properties. I fitted door and frame and was so easy to fit. I wouldn't look anywhere else. Total satisfaction.

Door Style Purchased: 6 Panel Composite Front Door in Black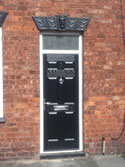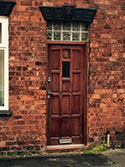 By

Tom Adcock

, Pontyclun, Rhondda Cynon Taff. Jul-15

Beautiful looking door totally in keeping with our stone house. Great price, great communication from the sales team and delivery exactly as and when said it would arrive. Really can't fault anything. Very please indeed, thank you!

Door Style Purchased: 2 Panel 2 Angle Flair Composite Front Door in Chartwell Green
By

Phil Hillary

, Nuneaton, Warwickshire. Jul-15

Absolute fantastic company to deal with. Very helpful with my queries regarding door sizes and general installation. Delivered on time as promised and the quality of the door is amazing. I will not hesitate to use this company again.

Door Style Purchased: 2 Panel 4 Square Elegance Composite Front Door in Blue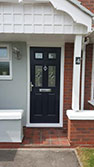 By

Gillian Thompson

, Cheltenham, Gloucestershire. Jul-15

I was really nervous about buying a door on the internet but your team made it a very easy experience. The help I got on the phone put me at ease. The only slight downside was that my delivery window was between 3.30pm and 5pm but it did not arrive until after 5.45pm and a quick phone call to let me know they were running late would have been appreciated. Other than that I can find no fault and would certainly recommend you.

Door Style Purchased: 2 Panel 2 Square Flair Composite Front Door in Chartwell Green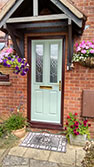 By

Mike Simmonds

, Harrow, Greater London. Jul-15

Over the moon with my new door. Quality is very good. Great service I got exactly what I was looking for. I needed a level threshold as my son is in a wheelchair, the confirmation callback after ordering online was very reassuring. Delivery was prompt 10 days after order submitted. Fitted it myself & extremley pleased with the end product.

Door Style Purchased: 2 Panel 2 Square Zinc Brass Art Clarity Composite Front Door in Black
By

Richard Eyre

, Ware, Hertfordshire. Jun-15

Easy to order did have problem with getting glass I wanted but kept me informed. Installation was straight foward but did need two people to lift into place. Took about 3 hours to install, looks great.

Door Style Purchased: 4 Square Finesse Composite Front Door in Black
By

Morris Ibrahim

, Isleworth, Greater London. Jun-15

The door arrived on time and the quality is excellent. Very happy with the door and will definitely recommend.

Door Style Purchased: 1 Square Composite Front Door in Black
By

Mr Murty

, Melton Mowbray, Leicestershire. Jun-15

Wish I'd found GRP Doors sooner, very easy to order, staff very helpful, kept me up to date with my order and even delivered it on time, what more can I say, the door looks amazing and I nearly forgot to mention, the price was the cheapest online, many thanks GRP Doors.

Door Style Purchased: Cottage Solid Composite Front Door in Black
By

Charlene Clark

, Bristol. Jun-15

I was a bit skeptical about ordering a front door without seeing it first but I had no reason to be. The door is of very good quality and the colour is exactly what is shown on the website, it was at a very reasonable price and I'm very pleased with my new front door.

Door Style Purchased: 2 Panel 2 Angle Crystal Diamond Composite Front Door in Chartwell Green
By

Dave Green

, Beccles, Suffolk. Jun-15

I would just like to say how very pleased we are with the door and side panels that you supplied. The delivery was very fast as well. I installed the door and panels myself. Having done this for the first time i found the instructions very helpful.

Door Style Purchased: 4 Panel 1 Arch Glazed Composite Front Door in Darkwood
By

Hitesh Master

, Southampton. May-15

I cant really speak highly enough of the way in which the whole process was dealt with. The door arrived packed very well and with clear fitting instructions. It took me half a day (plied with a few teacups in between!) to take off the old one, put on the new frame, hang the door and make a few minor adjustments. It couldn't have been any easier or simpler for someone who is just a old DIYer! So.. thank you all at GRP - a painless process from beginning to end and a very happy mrs too!

Door Style Purchased: 2 Panel 1 Arch Elegance Composite Front Door in Oak
By

M Farmer Installations Ltd

, Mytchett, Camberley, Surrey. May-15

A great looking door & so easy to install. We fully recommend this company, not only are the doors great but the service also backs this up.

Door Style Purchased: 2 Panel 2 Square Flair Composite Front Door in Black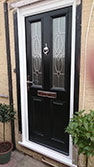 By

Chris Gardiner

, Ryton, Tyne and Wear. May-15

As you can see from the photo my door has now been successfully put in place and I'm very pleased with the end result. Many thanks for your help and excellent customer service.

Door Style Purchased: 2 Panel 2 Square Glazed Composite Front Door in White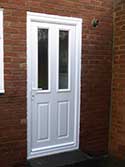 By

Lisa Antoni

, Bolton. May-15

Fantastic service and I love my front door. All my friends and neighbours have commented how nice it looks and it feels really secure, thanks again :-)

Door Style Purchased: 4 Square Glazed Composite Front Door in Grey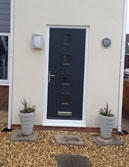 By

Carolyn Hynes

, Chesham, Buckinghamshire. Apr-15

We are very pleased with our new door- the quality is fantastic. The whole process of selecting, ordering and having the door delivered was fast and efficient. Will definitely be recommending GRP Composite Doors.

Door Style Purchased: 2 Panel 2 Square Glazed Composite Front Door in Blue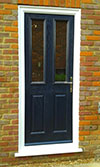 By

Joe Lindsay

, Romsey, Hampshire. Apr-15

Great website, great service, great product! Working in the building industry myself, having looked around with main stream suppliers, I was very impressed when I came across GRP Composite Doors UK.

Very straight forward and easy to use website and the few queries I did have were answered the next working day. Even more impressed when the actual door turned up; being well packaged, simple and clear instructions and a great looking end product. Having never fitted a front door before let alone frame and side light, it was very easy and really happy with the end result.

Very well made and would definitely recommend anyone to purchase from these guys!

Door Style Purchased: 4 Square Glazed Composite Front Door in Oak
By

Nigel Higson

, Brighton. Apr-15

An excellent product at a price that I cannot better elsewhere. Delivered as promised and complete with full fitting instructions ...first door I had ever fitted and it opens and closes like a dream! Our property in France is now secure with multiple lever locking and a solid door. Thank you GRP.

Door Style Purchased: 3 Square Glazed Composite Front Door in Black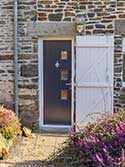 By

John Sechi

, Ascot, Windsor and Maidenhead. Apr-15

We purchased two doors for our house (front and back) and we are very pleased with the end product. We spoke to someone on the phone to help us make the right measurements and once delivered were installed with no problems. We would definitely recommend you and use you in future.

Door Style Purchased: 4 Panel 2 Square Classic Composite Front Door in Black
By

R Beck

, Burntwood, Staffordshire. Apr-15

Very good door. Very reasonably priced with secure locking. Delivered on time. Fitted well with supplied spacers and fittings. Thanks GRP for a good experience. We will certainly be buying from you again.

Door Style Purchased: 4 Panel 2 Square Glazed Composite Front Door in Black
By

Andrew Dear

, Northfleet, Gravesend. Apr-15

The door that was ordered was great value, good all round quality and brilliant value for the cost. What more can I say will definitely use again, many thanks.

Door Style Purchased: 4 Panel 2 Square Glazed Composite Front Door in Black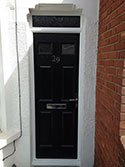 By

Rupesh Patel

, Slough. Mar-15

I was let down by another online company so I called these guys. I was told I would have my door in 5 working days, I was given a call for a 2 hour delivery slot and received the door on the 5th day. Very pleased with the look and feel of the door, very good quality both inside and out. If you're looking for good service, price and quality then these are the guys for you. Thanks guys!

Door Style Purchased: 2 Panel 2 Square 1 Arch Elegance Composite Front Door in Black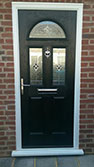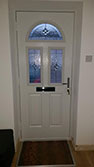 By

Jamie Fishenden

, Royston. Mar-15

Fantastic customer service, no pressures selling. Was delivered when stated. Great quality door worth every penny thank you all at GRP.

Door Style Purchased: 4 Square Glazed Composite Front Door in Black
By

Antony Wilson

, Blidworth, Mansfield. Mar-15

Well chuffed, not quite as fast at making as stated on the web page but you dont mind that if you are getting a quality product. Staff were knowledgeable and happy to help. Asked for an alternative delivery date, no problem. Installation was easy and instructions easy to follow. All we need now is to put a new porch canopy up and presto will look even better. Would recommend GRP to all my friends without hesitation.

Door Style Purchased: 2 Panel 2 Angle Crystal Diamond Composite Front Door in Black
By

Joshua Barron

, Brighouse, West Yorkshire. Feb-15

Absolutely fantastic quality door. I was a bit sceptical at first, trusting my own measurements and ordering a door I hadn't seen in the flesh, but the end result is brilliant and I'm very happy. I would definitely recommend GRP composite and I will eventually buy another one for the front door as well!

Door Style Purchased: 1 Diamond Composite Front Door in Black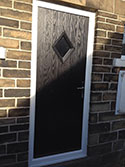 By

G Barfield

, Hayling Island, Hampshire. Feb-15

Great communications, easy to use door online design software, a very good price offered, door arrived on the day and time advised and all as specified? I'm a happy customer :-)

Door Style Purchased: Cottage Solid Composite Front Door in Blue
By

Nic Gwynn

, Bristol. Jan-15

I phoned up to discuss requirements during the Christmas/New Year break, and although I had to leave a message (not surprising due to the season), I got a call back from a very helpful guy. We ordered over the internet on Sunday, I got a call on Monday to confirm, and to discuss my order (checking all details) and once again the person was very helpful, and cheerful. And the door was delivered on Friday, at the start of the short delivery period.?

Door Style Purchased: Cottage Solid Composite Front Door in White
By

Ben Wright

, South Glamorgan. Jan-15

I am really happy with this product, the price was great and it is very good quality door, easy to install & great service. I would recommend anyone to buy from this company. The 3D hinges are well worth the extra money too! Thank you GRP Composite Doors.

Door Style Purchased: 2 Panel 2 Square Glazed Composite Front Door in Blue
By

Jose Sala

, Dundonald. Jan-15

l was told the door would be with me on Thursday and it arrived on time. This is the second time l have used the company and will do so as required. The quality is good and service is excellent. I would recommend them to anyone who was contemplating to purchase a composite door to any property.

Door Style Purchased: 6 Panel Composite Front Door in White
By

Mr Stuart Black

, Kelso. Jan-15

After looking at several companies to supply our new front and back doors we eventually decided on GRP composite doors UK. The whole process was very smooth and the door quality is great. Our joiner said they were a pleasure to fit.

Door Style Purchased: 4 Square Glazed Composite Front Door in Black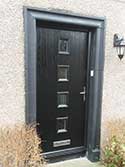 By

Mr Stephen Coleman

, Royston, Cambridgeshire. Jan-15

From start to finish excellent service and value very customer friendly and professional. Ordered again from the first one which should tell you everything you need to know.

Door Style Purchased: 2 Panel 1 Arch Glazed Composite Front Door in Oak
By

Mr Malcolm Farmer

, Camberley, Surrey. Jan-15

Another great door with great service. The old door was out & the new one fitted within an hour. No adjustments needed - just a really good product of which i will use again & again.

Door Style Purchased: 2 Panel 2 Square Glazed Composite Front Door in White
By

Amanda Grech

, Manchester. Jan-15

Thank you so much for your faultless service. Ordered and received in less than a week. Excellent customer service and total value for money could not find it cheaper anywhere else. I will definitely be recommending you (shame a friends has just cost ?200 more for exactly the same) thank you one very happy customer.

Door Style Purchased: 4 Square Glazed Composite Front Door in Black
By

Mr Barry Lacoste

, Winchester, Hampshire. Jan-15

Great price for the door. Looks good and does the job well. Had one slight hitch when installing... The bottom lock fitting in the frame had been put in too high, so the lock couldn't fully engage and I couldn't turn the key to lock the door. A bit of detective work on the frame and I found the cuplrit fitting. The hole in the frame was in the correct place, just the metal fitting had been put in too high. Easily fixed by removing the fitting , re-positioning and screwing back in. Now locks perfectly. Overall, very happy with the door and it looks great on the house.

Door Style Purchased: 4 Square Glazed Composite Front Door in Black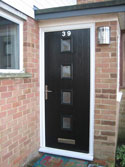 By

Julian Dye

, Bognor Regis, West Sussex. Dec-14

We're very happy with our new front door. It makes a nice change from the usual white UPVC doors, and really make our house stand out in the street. We did a lot of searching online, and GRP offered the best price for the door and finish we wanted.

Door Style Purchased: 2 Panel 2 Square Glazed Composite Front Door in Red
By

Susie Trow

, Wrexham. Dec-14

Fantastic doors! Both the front and back doors look great and are really good quality. We are very pleased with them and would definitely recommend this company to anyone looking for a good quality composite door and good customer service !

Door Style Purchased: Cottage Solid Composite Front Door in Oak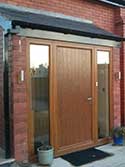 By

Mr David Watkiss

, Huddersfield, West Yorkshire. Dec-14

Excellent service. Very helpful on the phone. I like to do my own jobs on house so found it easy to fit and to adjust door. I will be using again in the future. And when they say guaranteed lowest price its true, I spent weeks searching found a few companys slightly lower but vat was not included. As soon as you add the vat they were no were near these guys. Especially with free delivery as all the rest charge for delivery. Many Thanks.

Door Style Purchased: 2 Panel 2 Square Crystal Diamond Composite Front Door in Black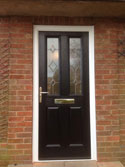 By

Samantha Craven

, Ripon, North Yorkshire. Dec-14

When looking to replace the door, I found it wasn't a standard size. GRP Composite Doors offered the lowest prices for custom made doors. The website was easy to use and included helpful information about measuring and various options. After ordering, the sales team called back to confirm measurements and specification and take payment. Delivery was made only a few days later within an arranged time slot and the door was packaged safely. The fitter was impressed with the quality of the door and frame, which was installed quickly and easily. I??m very pleased with the look of the door and its safety specification, and the house felt warmer immediately. I will use the company again in the future.

Door Style Purchased: 4 Panel Solid Composite Front Door in Black
By

Mr Andy Lester

, Cambridge. Nov-14

We are very impressed with both the company and the product. The price was one of the best I had found but the reviews made my decision for me. The door was delivered as promised and although I got a friendly expert to fit it for me it went in well and quickly with no issues. The look and feel of the door is perfect and well above my expectations for this price.

Door Style Purchased: Cottage Half Glazed Composite Front Door in Blue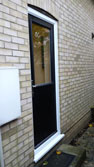 By

Mr Timothy Cheung

, Chester. Nov-14

Always dubious of internet firms, however GRP Doors UK, have been very professional throughout. Website is very easy to use and what you select at the beginning is what you pay for at the end. Always helpful on the other end of the phone, from ordering to fitting. Quality of the doors is very good on par with My fathers Rock Door. Would definitely recommend to others.

Door Style Purchased: 4 Panel 2 Square Glazed Composite Front Door in Black
By

Mr Allan Potter

, Stone, Staffordshire. Nov-14

Reliable (order checked before paying -good idea since I made a mistake on the order!). Delivery spot on. 3D hinges great, some simple instructions for DIYs wouldn't go amiss.

Door Style Purchased: 2 Panel 1 Square Glazed Composite Front Door in White
By

Jean Jackson

, Winsford. Nov-14

Cannot fault service, delivery, door, I'm thrilled with, lots of compliments and in my budget, excellent value. Will use GRP doors again and have recommended them to family and friends..

Door Style Purchased: 1 Diamond Composite Front Door in Black
By

Ms Juile Williams

, Saxmundham, Suffolk. Nov-14

I received an efficient and polite service from this company. My son, who has his own carpentry business, fitted the door for me and said the composite door I purchased was of very good quality and easy to fit. I will be using them again to supply further external doors.

Door Style Purchased: 2 Panel 2 Square Glazed Composite Front Door in Black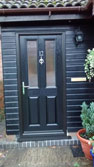 By

Mr Scott Baker

, Cheltenham, Gloucestershire. Nov-14

Working in the trade you always want the best product for the best price and with these guys thats exactly what you get.

Door Style Purchased: 4 Square Flair Composite Front Door in Oak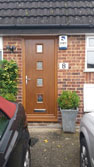 By

Mark & Vicky Burley

, Southampton, Hampshire. Nov-14

It was always my intention to fit a new front door myself but wanted to ensure that I got the best quality self-fit GRP composite door that I could.

GRP Composite Doors UK have completely exceeded my expectations by delivering a top quality front door to my precise specifications and options ... and it totally transforms the front of the house, giving it a 'kerb appeal' that had been missing since we bought the house.

The door was delivered at the exact date and time agreed and we could tell immediately that it was a solid, secure and well-constructed quality item. When it came to fitting the door the dimensions were millimetre-perfect to the ones I had supplied as part of the order and therefore the door was an absolute dream to fit using the fitting kit I had bought with it. After finishing it off with a little expanding foam and then trimming with white plastic trim and white silicone sealant, the final effect is truly fabulous. The blue wood-grain-effect door contrasts perfectly with the frame and totally lifts the front of the house.

Inside, the house is warmer, quieter, brighter and completely secure. The door locking mechanism has fabulous hook claw-style securing bars that lock into the frame ... and that door is going nowhere! Thoroughly and reassuringly secure!

Overall, from start to finish the service and quality were outstanding and GRP Composite Doors UK delivered a fabulous product that was easy to install and transforms our home. We should have done it years ago!

Door Style Purchased: 2 Panel 2 Square Glazed Composite Front Door in Blue
By

Mrs Sally Turner

, Brighton. Nov-14

We installed our new door in July and four months later we are still extremely pleased with it. The door itself looks excellent and the fittings are of a very good quality. We couldn't be more pleased. We will be moving house again soon and are already planning on getting a new front door from these guys - we wouldn't get one from anywhere else now. Wonderful service and product, thank you very much.

Door Style Purchased: 4 Panel 2 Square Glazed Composite Front Door in Green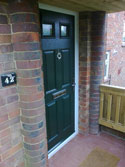 By

Mr Colin Chapman

, Dereham, Norfolk. Nov-14

Very satisfied with the quality and service i received any query was quickly replyed to I highly recommend you purchase the fixing kit, made the fitting hassel free diy job fitted within 2 hrs.

Door Style Purchased: 2 Panel 2 Arch Fleur Composite Front Door in Blue
By

Mrs Hoogesteger

, Norwich, Norfolk. Nov-14

Great door, feels like good quality. Door is made by Door-stop. Best price on the web I could find. Fitting instruction guide could be a bit better but still easy to fit, especially if you find some instruction video's online. Make sure to follow the instructions in the how to measure/size guide before ordering.

Door Style Purchased: 2 Panel 2 Square Glazed Composite Front Door in White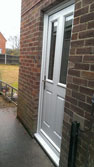 By

Mr Gerry French

, Bracknell Forest. Nov-14

My new door looks great. Just select the door you like, measure your opening a few times to make sure your size is correct. Call GRP doors on the phone, they will go through size and options with you "Helpful" . Wait a week and door will be delivered when they say so no waiting around. Now all you got to do is install it which is not dfficult about 4 hours, the door is very heavy so it would be a good idea to get someone to help you, But you can do it on your own. I'm very happy with it i should have done it sooner.

Door Style Purchased: 2 Panel 2 Square Crystal Diamond Composite Front Door in Red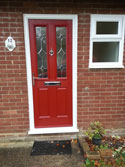 By

Mr Robert Boal

, Atherstone, Warwickshire. Oct-14

Every aspect of the door from ease of order to on time delivery and final quality was excellent so much so that a number of neighbours have shown an interest in copying what we have done and I have passed on your details.

Door Style Purchased: 1 Square Composite Front Door in Darkwood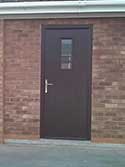 By

Mr Kevin Spark

, Newcastle upon Tyne. Oct-14

Great strong solid door at a great price, easy to install. I would recommend two people to fit this door, as the doors are heavy for one person to move.

Door Style Purchased: Cottage Half Glazed Composite Front Door in Red
By

Neil Macfadyen

, Uxbridge, Greater London. Oct-14

What a great door. I thought paying such a great price might reflect on the quality, Not at all. Very happy with the speed of delivery as well much faster than all the other companies.

Door Style Purchased: 2 Panel 2 Square Glazed Composite Front Door in Black
By

Mr Chris Anderson

, Liverpool. Oct-14

Absolutely delighted with the service provided by GRP. Easy to order online and very helpful when spoken to direct. Delivery was faster than anyone else and the price was fantastic. It arrived right on time and has had lots of praise and admiration from neighbours and passers by. Will recommend you gladly to friends and family.

Door Style Purchased: 2 Panel 2 Square Crystal Diamond Composite Front Door in Black
By

Mr Euan Campbell

, East Grinstead, West Sussex. Sep-14

Really pleased with my new front door. I searched several suppliers to find what I wanted at a good price and found that GRP were the best value for money.

Door Style Purchased: 4 Panel Sunburst Composite Front Door in Cream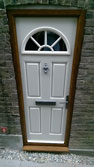 By

Mr Stuart Cason

, Ringwood, Hampshire. Sep-14

Very impressed with this company from ordering to delivery - perfect.

The door arrived as described and on time - the quality was better than expected. I have recommended this company to family and friends.

Door Style Purchased: 2 Panel 2 Square Glazed Composite Front Door in Chartwell Green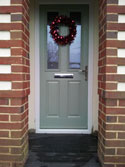 By

Joe Childes

, Rotherham, South Yorkshire. Sep-14

Fantastic service. I was recommended to use this company after my brother used them for his new door. I also researched the Internet to see if I could get it cheaper and I failed. Thank you!

Door Style Purchased: 4 Panel 2 Square Glazed Composite Front Door in Chartwell Green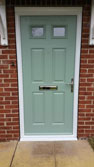 By

Jonathan Reynolds

, Broad Chalke, Salisbury. Sep-14

Excellent service, with especially helpful delivery arrangement. The product is very good, with minor exceptions. This was an outward opening door, but the bevelled latch bolt faces the wrong way and cannot be reversed. Consequently, there is a risk of damage to the frame if the door slams. Otherwise, the fit is millimetre perfect, and I am very pleased with the outcome.

Door Style Purchased: Cottage Solid Composite Front Door in Chartwell Green
By

Denise Kosterec

, Glenfield, Leicester. Sep-14

We actually paid a visit to the factory and we're very impressed with the service. The gentleman who looked after us and took our order was very informative and made us feel very confident that we were dealing with a first class firm. We picked the door we wanted and it was delivered promptly and is of excellent quality.

Door Style Purchased: 2 Panel 2 Square Crystal Diamond Composite Front Door in Black
By

Mr Hollick

, Romford, Greater London. Sep-14

To be honest I was in two minds whether to order a door from GRP composite doors. A supplier I had used in the past only did standard size doors so I was forced to trawl though the internet for another source. I found GRP doors and another supplier and to be honest I picked GRP as they were a little cheaper and said that they would pick a suitable delivery date and phone the day prior to confirm - as this was being delivered direct to customer I thought this was ideal.

The ordering process was extremely straight forward and lead you through all the options available. It even provided latest type anti snap locks etc as standard - a bonus for the customer.

I was still nervous about what the quality was going to be like but I needn't have worried. As soon as I saw the door I was relieved, It was well packaged and protected for delivery, and I was extremely pleased with the overall quality. Every option was either fitted or held together in a blister pack ready for fitting. The sizes were also spot on and the door was extremely easy to fit.

I would just like to say a big thanks to GRP Composite Doors for providing a first class quality product and to let you know I would definitely use and recommend them in the future.

Door Style Purchased: 2 Panel 2 Square Glazed Composite Front Door in Black
By

Mr Andrew Garnham

, Chichester, West Sussex. Sep-14

Amazing service. The door was delivered to the correct specification within 3 days of placing the order. Both neighbours have commented on how good the door looks! The fitter was very impressed with the quality and price and is now looking to change from his previous supplier. The delivery guys were friendly and helpful too.

Door Style Purchased: 4 Square Glazed Composite Front Door in Black
By

Miss Rachel Craine

, West Moseley, Surrey. Sep-14

Very pleased with my new door. Excellent service from start to finish - ordering the door online was easy and the door was delivered when I was told it would be.

Door Style Purchased: 4 Panel Sunburst Composite Front Door in Blue
By

Mr Trevor Reynaert

, Longhope, Gloucestershire. Aug-14

An excellent low-cost quality door exactly as specified. Delivery was on the day asked for by a friendly and obliging two man team. I've already recommended GRP Composite Doors to others.

Door Style Purchased: 1 Diamond Composite Front Door in White
By

Donna Cooper

, Burt St Edmunds, Suffolk. Aug-14

So pleased we bought our door from here. The price was great, customer service was brilliant, delivery was quick and the quality of the door was excellent - we are very happy with the end result! Thank you!! *****

Door Style Purchased: 2 Panel 2 Square Flair Composite Front Door in Black
By

Mr Michael Goodyear

, Eastbourne, East Sussex. Aug-14

Excellent quality door and frame. Easy online ordering and only a phone call away if you have any queries. Very quick dispatch and delivered on time.

Door Style Purchased: 4 Square Glazed Composite Front Door in Chartwell Green
By

Angela Poulton

, Norwich, Norfolk. Aug-14

Very pleased with the whole service, brilliant. My old porch was looking very dull and tatty. My builder has done the brickwork, the porch is not finished as yet, hence the photo with assorted rubble!

I am so pleased with the new trendy looking door, my house will soon be the smartest in our cul de sac, after being the ugliest for so long!

Door Style Purchased: Twin Square Glazed Composite Front Door in Black
By

Sue Blanchard

, Hull. Aug-14

The door looks fabulous and the service was brilliant, from ordering to delivery.

My only hiccup was that there were no instructions for fitting in with the door. The hinges took an age to work out how to operate so that the door would adjust. We did receive a diagram of the hinges when we rang the company. They still were not clear enough to be able to move the door into position.

Door Style Purchased: 2 Panel 2 Square 1 Arch Abstract Composite Front Door in Black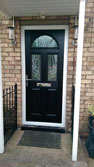 By

Roland Davies

, Edenbridge, Kent. Jul-14

Everything arrived promptly as arranged, even had time to fit the door on the same day. Looks great would definitely order again from GRP.

Door Style Purchased: 6 Panel Composite Front Door in Black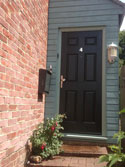 By

Joanne Aske

, Coleshill, Birmingham. Jun-14

Here are some pictures of recent installation of my GRP Composite doors. Many thanks. I am very pleased with both doors.

Door Style Purchased: 4 Square Glazed Composite Front Door in Blue
By

Mr Thomas Rathbone

, Wooler, Northumberland. Jun-14

The quality of our composite door is excellent. Before placing our order I phoned with a couple of queries and these were answered immediately. Our door was delivered on the stated day and well within the timeslot. Overall we are absolutely delighted with our door. Many thanks

Door Style Purchased: 2 Panel 2 Square 1 Arch Zinc Brass Art Clarity Composite Front Door in Blue
By

Mr John Bernard

, Crewe, Cheshire. Jun-14

We are delighted with our new door from the appearance through to the security aspect and insulation properties. Overall absolutely delighted all round. The service and prompt delivery was first class. Our friends and neighbours are constantly passing favourable comments and we have recommended your firm to them.

Door Style Purchased: 4 Square Glazed Composite Front Door in Chartwell Green
By

Kate Smith

, Barwell, Leicester. May-14

Chris was helpful and gave clear explanations of the technical specs when I phoned for advice and ordered my door. The colour shown on the website proved to be accurate and the information very useful and comprehensive. The door was delivered when I had been advised that it would be and the delivery driver rang me 10 mins beforehand to alert me that he was nearly there.

Everyone I dealt with was courteous and helpful as well as seeming happy to explain things in detail to a complete novice. At the end of the process I have my perfect front door and (if we ever have sunshine again) may put a deckchair on the lawn so I can sit and admire it! Will be pleased to send a photo as soon as it stops raining!

Door Style Purchased: 4 Panel 1 Arch Abstract Composite Front Door in Chartwell Green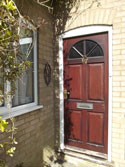 By

Helen Ledwick

, Manchester. May-14

We bought a back door and were very pleased with both the product and the service. Easy to order, great communication, happy to amend our order when we realised we had requested the wrong opening direction, fast delivery, great!

Door Style Purchased: 2 Panel 1 Square Glazed Composite Front Door in White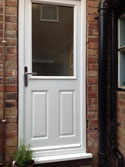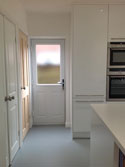 By

Mandy Hudson

, Manchester. May-14

I am extremely pleased with my new door which arrived in a timely manner. Everybody I have spoken to has been very friendly and helpful. I would have scored all 5's but have just one issue and that is that the top of the door has not been finished to the same standard as the rest of the door with the same plastic edging. I have attached photos of before and after to show the huge difference my new door has made.

Door Style Purchased: Cottage Half Glazed Abstract Composite Front Door in Black
By

Mr Wayne Collier

, Wigan. May-14

Excellent service and fast delivery of a high quality product. Would defo recommend to anybody. Absolutely made up with our new door.

Door Style Purchased: 3 Square Glazed Composite Front Door in Black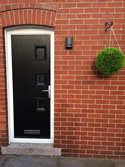 By

Mr Michael Wilson

, Durham. May-14

Great quality, I am an experienced DIY'er only real issue I had was finding a drill bit long enough to do a pilot hole through the frame into the aluminium bar to join the frame and door frame together and finding a screw that would do the job, it would be helpful for people like me who don't do fitting all the time if you could offer a fitting kit of maybe spacers and relevant screws as an option perhaps. very happy with purchase so far.

Door Style Purchased: 4 Square Glazed Composite Front Door in Red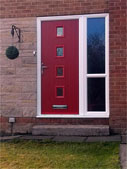 By

Nicky

, Caerphilly. Apr-14

After an initial hiccup with the letter-plate which was very quickly fixed, we are extremely pleased with our beautiful door. The quality is outstanding, the door feels very sturdy and well made. Customer service was excellent, answering all questions we had on fitting and measuring. Even our door fitter says he's going to use these doors from now on! So pleased, we have recommended you to our next door neighbours already!

Door Style Purchased: 4 Square Glazed Composite Front Door in Oak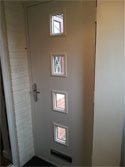 By

Mr John Parker

, Plymouth. Apr-14

The door exceeded our expectations and it has been in now for about a month and we are really pleased with the quality. In fact we have had several comments from people walking by how nice the door is. Our installer was so impressed he is also thinking of buying one and will recommend the GRP Composite Doors UK to other customers over the existing supplier that he uses.

Door Style Purchased: 2 Panel 2 Angle Flair Composite Front Door in Blue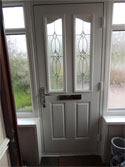 By

Mrs Eade

, Lancing, West Sussex. Apr-14

This is the second time I have used this company for this product. The service is always great and very helpful. The door was intended for a customer of mine but I could not be present for the delivery. My concern was that the customer was elderly so I contacted GRP and they arranged for two men to deliver that day. This obviously took a lot of pressure off me to be there. Thank you GRP. Great door as always!.

Door Style Purchased: 4 Panel Sunburst Composite Front Door in White
By

Mr Ramsden

, Faversham, Kent. Apr-14

Great all round service and product. Fitted the door myself using the instruction booklet issued which was well explained. First time in fitting a composite door and was impressed how smoothly it went. Delivery was spot on for time and date. Sent a before and after photo to show how good it looks.

Door Style Purchased: Cottage Half Glazed Composite Front Door in Blue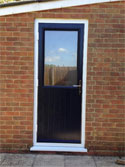 By

Mr Paul Hawthorne

, Solihull, West Midlands. Apr-14

Superb door and the quality is great. The only reason I have marked you down on service and delivery is the fact that the 150mm cill that I ordered was not delivered. But the door is fantastic and a great product.

Door Style Purchased: 2 Panel 2 Square Crystal Diamond Composite Front Door in Chartwell Green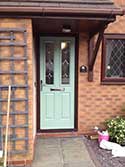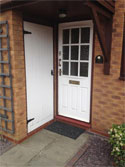 By

Mr Ian Wharton

, Colchester. Mar-14

This is the second door I have ordered from these guys, and they are fantastic, would highly recommend the 3d hinges as an upgrade, these are amazing, however the standard ones are great also, Amazing value for money, thanks will be buying from them again.

Door Style Purchased: 1 Diamond Composite Front Door in Blue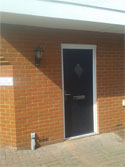 By

Mr Ian Wharton

, Colchester. Mar-14

What a fantastic door and amazing quality, the staff are very helpful and helped me out, Fantastic, will be ordering again from them and the cheapest, THANKS.

Door Style Purchased: 4 Panel 2 Square Glazed Composite Front Door in Red
By

Mohammed Sholayman

, Bangor, Gwynedd. Mar-14

Excellent quality door and accessories such as letter box. The lock of the door is also of the highest quality for security purposes. Very pleased with the outcome in terms of how much money was spent, 100% worth it! Would recommend to anyone in need of a door. Extremely satisfied!

Door Style Purchased: 4 Panel 1 Arch Glazed Composite Front Door in Darkwood
By

Mr Gavin Williams

, Castleford, West Yorkshire. Feb-14

Very easy to use door designer on the website. I used this myself, I was a little unsure on some of the specifications, so I decided to request a call back. I was called back the very next morning to discuss my options. Very friendly service and my door was with me within the week. Door fitted a treat and of good quality.

Door Style Purchased: 2 Panel 4 Square Flair Composite Front Door in Blue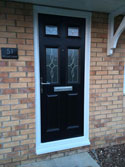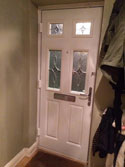 By

Mr Molden

, Bishops Stortford, Hertfordshire. Feb-14

The composite door was exactly what we wanted. The door arrived exactly when we were advised that it would and the was fitted with ease. I found the website very easy to use which made buying the door very easy.

Door Style Purchased: 2 Panel 2 Square Crystal Diamond Composite Front Door in Red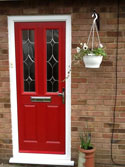 By

Joanna Honeybun-Leigh

, Cirencester, Gloucestershire. Feb-14

I found the website very user friendly, then when I called to place my order after emailing numerous front door ideas I felt a valued customer, the salesman was very helpful and having been in sales myself I knew he was experienced and knew what he was talking about, he advised me on design which was cheaper than my idea and he got the final result spot on. Correspondence was excellent and delivery on time and delivered by an helpful driver within the 2 hour slot stated. Customer service is outstanding and very rare these days! Thank you.

Door Style Purchased: 3 Square Glazed Composite Front Door in Blue
By

Bali Rai

, Oadby, Leicester. Feb-14

Fantastic service, superb product and seamless delivery. I would recommend GRP to everyone. My builder was SO impressed with the door, the price and the service, he's taken the details from me. GRP are not the cheapest, nor the most expensive. But when you compare price, service, QUALITY and delivery, they are the best choice and I'm delighted I found their website. An A1 company that I would not hesitate to use again.

Door Style Purchased: 4 Panel Solid Composite Front Door in White
By

Mr Richads Fowler

, Kenilworth, Warwickshire. Dec-13

Great door, good quality, as described, delivered on time, great communication and at a great price. The fitters thought it good quality as well and easy to fit and adjust.

Door Style Purchased: 2 Panel 1 Grill Composite Front Door in Red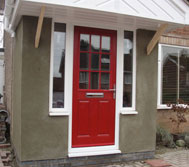 By

Mr Brookes

, Ludlow, Shropshire. Dec-13

I cannot fault the service received, or the quality of the composite door. The door was fairly straightforward to fit, but the excellent instructions did not cover fitting the UPVC cill - I had to do some internet research on this, and think it should be included. Otherwise, no complaints at all - we are VERY pleased with our new composite door!

Door Style Purchased: 4 Panel Sunburst Composite Front Door in Green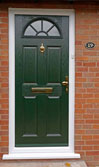 By

Mr Trevor Adams

, Aylesbury, Buckinghamshire. Dec-13

My composite door arrived exactly at the estimated time and day complete and undamaged by transport, the order process was simple and straight forward, I installed it on the day it arrived and it was a perfect fit and now we have many positive comments from visitors etc.

Door Style Purchased: 2 Panel 1 Grill Composite Front Door in Red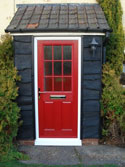 By

Marilyn New

, Wokingham, Berkshire. Nov-13

Really pleased with the composite door you have supplied. Everything as ordered and colour (green) exactly as wished for in dark shade. My previous door was glazed and wooden, not fitting at all well, resulting in crawlies getting in and, of course, draught. Not now needing letterbox adds to the overall insulation. Thank you.

Door Style Purchased: 2 Panel 1 Grill Composite Front Door in Green
By

Mr Richard Parsons (Higham Park Construction)

, Maidstone, Kent. Nov-13

We have now ordered seven doors in two different finishes and we are delighted with the product quality, price and efficiency of service and delivery.

In particular, the quality is first class and has a 'weight' and quality of ironmongery that one would typically expect of a more expensive door. For the price of a 'banger' white PVCu door, you get a 'BMW' premium product.

Door Style Purchased: 2 Panel 2 Square Glazed Composite Front Door in Oak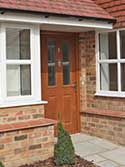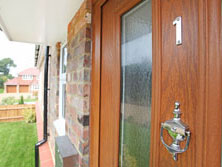 By

Mr Chris Paul

, London. Oct-13

Excellent service throughout the ordering process. The staff were very knowledgeable and helpful in dealing with the many queries I had! As a DIY fitter, I probably could have used more comprehensive instructions (the uPVC beadings for the windows panels were most tricky to install) but I'm ultimately very pleased with the results.

Door Style Purchased: 4 Panel Solid Composite Front Door in Black
By

Dale Williams

, Caerphilly. Oct-13

Excellent communication and delivery as promised. This is a very good quality door, supplied with easy to follow instructions to install. Reinforced frame is a bonus as there is no deformation during installation. Also recommend the 3d hinges which make alignment a breeze. Would certainly buy again.

Door Style Purchased: Twin Square Abstract Composite Front Door in Black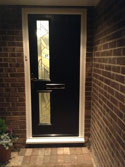 By

Mr David Williams

, Petersfield, Hampshire. Oct-13

Easy to use website, we were kept well informed of the order progress and delivery times. The look and quality of the composite door is great, a real improvement to the entrance to our home.

Door Style Purchased: 2 Panel 2 Square Drop Diamond Composite Front Door in Blue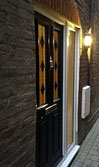 By

Mr Ray Poole

, Birmingham, West Midlands. Oct-13

Top quality composite door, both myself and the customer were extremely impressed. The service from your team was also impressive, it was speedy and I was kept well informed throughout the process.

Door Style Purchased: 4 Panel 2 Square Classic Composite Front Door in Blue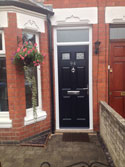 By

Gemma Oakey

, Bedford. Aug-13

Fantastic service, value and high quality product! We love our new composite door! The photos don't do it justice at all! Thank you to all at GRP Composite Doors UK!

Door Style Purchased: 4 Panel 1 Arch Flair Composite Front Door in Black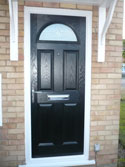 By

Pamela Dixon

, Barnard Castle, County Durham. Aug-13

I thought the whole service from start to finish was excellent. When I phoned to order my composite door I was made to feel that my order was very important and that you were more concerned than I was that every aspect of it should be precisely what I wanted/needed.

I would have no qualms on recommending your company for it's professionalism in dealing with the customer, through to delivery, price and quality. Very nice to deal with you.

Door Style Purchased: 2 Panel 2 Square Crystal Diamond Composite Front Door in Green
By

Mr Steve Mooney

, Glossop. Aug-13

Excellent door quality, looks great with coloured outside and white inside, easy to fit, instructions were easy to follow and I only have basic DIY skills.

Door is quite heavy and will require assistance to lift into the frame, my wife assisted me. Delivered at time specified. Would recommend 3D hinges as it makes adjustment a lot easier for the novice door fitter.

Door Style Purchased: 4 Square Abstract Composite Front Door in Black
By

Linda Abdelaoui

, France. Aug-13

We are delighted with our new door! Despite the fact that, being for a French cottage, the measuring method etc were slightly different, the customer service was second to none, and ended up with a door that slotted into position absolutely perfectly!

Nothing was too much trouble for them, and our numerous queries were answered very promptly and courteously.

We would not hesitate to order from them again, and in fact are planning to replace our second front door asap. Our installer was impressed with the quality of the door.

Door Style Purchased: 2 Panel 2 Square Glazed Composite Front Door in Blue
By

Teddy Boutrup

, Haywards Heath, West Sussex. Jul-13

Both doors came complete with frame, doorsteps and mounting kit. Fitted perfectly and made our house look modern.

Very pleased with the quality of service from GRP Composite Doors UK, especially the helpful follow up after ordering.

Door Style Purchased: 3 Square Glazed Composite Front Door in Black
By

Mr Barrie Alder

, Tonbridge, Kent. Jul-13

Thank you for the composite front door recently delivered. We are very pleased with it, the colour makes the front of the holiday cottage look very stylish. Very pleased.

Door Style Purchased: 2 Panel 2 Square Glazed Composite Front Door in Green
By

Mark O'Reilly

, Swansea. Jun-13

I wanted to save money by ordering and fitting a door myself. I am glad I chose GRP Composite Doors UK.

From my initial email asking you how I should measure to final delivery I felt I was treated how a customer should be treated. This is not an exaggeration, this is the best customer service I have ever had. Very professional, an absolute pleasure to deal with.

A good sturdy feeling product. Well done GRP Composite Doors UK, I'm glad I spent my money with you.

Door Style Purchased: 2 Panel 2 Angle Glazed Composite Front Door in Black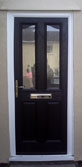 By

Pat Brindle (Grange Builders)

, Aylesbury, Buckinghamshire. Jun-13

We acknowledge receipt of composite door and can confirm that it has been fitted and the customer is very happy with the end result.

Door Style Purchased: 4 Panel Sunburst Composite Front Door in Black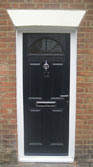 By

Clare & Robert George

, Chesham. Jun-13

We are really delighted with the composite door and your excellent customer service.

The door looks beautiful, fits exactly and will be so much warmer than our old Victorian one... we are almost looking forward to the cold weather!.

Door Style Purchased: 2 Panel 2 Square Drop Diamond Composite Front Door in Red
By

Mr Kevin Share

, Wolverhampton. May-13

I was a bit worried having to give my card details to the person on the phone. Would have preferred secure online payment. Other than that everything else was fine. Very pleased with the quality and look of the composite door. Fitting was easy and although these doors are expensive they are still the most competitively priced on the internet.

Door Style Purchased: 2 Panel 2 Square 1 Arch Zinc/Brass Art Clarity Composite Front Door in Green
By

Mr Thomas Hughes

, Edinburgh. May-13

We have fitted composite doors for several years now and your service and product leaves the rest in your shadow. Thanks from Corstorphine Windows and Doors.

Door Style Purchased: 6 Panel Composite Front Door in White
By

Christine McNamara

, Manchester. Apr-13

Absolutely delighted with my new composite door it looks fabulous and the quality is second to none and I am most impressed with the security aspect of it as well.

Door Style Purchased: 2 Panel 2 Arch Glazed Composite Front Door in White
By

Angela Ashton

, Attleborough. Apr-13

I must admit I do not normally comment on deliveries etc, but I feel this time I must say how very impressed I have been with GRP Composite Doors UK, all the information and questions have been so informative and any questions asked they have got straight back to me.

I have just had the door delivered, the driver called me to make sure I was in and to tell me when he would be here, and I must say what nice delivery drivers very careful and polite.

Door Style Purchased: 2 Panel 2 Angle Glazed Composite Front Door in Black
By

Mr Price

, Porthcawl. Apr-13

Retaining strips for the glazing difficult to fit after screwing the unit to the wall, but overall an excellent door and fanlight unit. It looks great and will last for years.

Door Style Purchased: Cottage Solid Composite Front Door in White
By

Sarah Caines

, Addlestone, Surrey. Apr-13

Fantastic composite door and quite possibly the best customer service aftercare I have ever received! Definitely recommend and thank you again Chris and Kevin :).

Door Style Purchased: 3 Square Glazed Composite Front Door in Black
By

Mr Marc Stelfox

, Sittingbourne, Kent. Mar-13

Really great door at a great price. Helpful efficient staff who show great customer service, show great expertise when explaining options on the products and most importantly call back when they say.

Door Style Purchased: 2 Panel 2 Square Glazed Composite Front Door in Black
By

Mr Richard Strange

, Reading, Berkshire. Mar-13

Really surprised on how good quality the door feels, it's excellent value for money. I would buy another from here on my next project. The only suggestion would be that the door could do with more adjustment to move the door left to right for a perfect fit, but we made it work in the end.

Door Style Purchased: Cottage Solid Composite Front Door in Black
By

Mr Marc Blackmore

, Basingstoke, Hampshire. Feb-13

From start to finish, ordering and having the door delivered has been a well organised and trouble free experience. The quality of the door and fittings is excellent.

Door Style Purchased: 2 Panel 4 Square Glazed Composite Front Door in Black
By

Mr Roger Jones

, Tenbury Wells, Worcester. Feb-13

Very pleased thank you. The quality of the composite door is excellent and your order process ensured that everything was exactly as we wanted. Very polite and helpful delivery driver.

Door Style Purchased: 2 Panel 1 Grill Composite Front Door in Black