You are here: Home > About GRP Composite Doors UK

Want a strong, energy efficient and secure external door that can be delivered in just 5 days?
GRP Composite Doors UK offers this as standard, backed with over 20 years experience in the double glazing industry and provide a start to finish customer service very hard to beat!
Why choose GRP Composite Doors UK Ltd?
We have been on board the composite door concept since its birth in the early part of the new millennium. We saw the potential of the composite door and set out to explore its benefits. Naturally, when the new generation of GRP composite door began to emerge we were only too happy to endorse and promote its growth. Our GRP composite doors are manufactured in the Midlands and we pride ourselves in supplying the finest Glass Reinforced Plastic composite doors direct to the Public, Trade and DIY, and in just 5 working days.
We Care
As a family-owned business we would be nothing without our staff, they care about the customers, the company and its reputation as if it were their own - we excel on employing only the best. Our highly knowledgeable team (no pushy sales people) have a proven industry background and all have been exposed to the elements of the GRP composite door industry. It is this conscientious approach that sets us apart from our competitors - it also means we know our stuff when it comes to GRP Composite Doors!
The Door
We offer our customers an endless array of door styles, glass designs and hardware options and as standard every 44mm thick GRP composite door carries the PAS23 and PAS24 accreditation and has a multipoint locking system and high security anti snap cylinder fitted, offering the utmost protection in door security.
We believe in our doors and service and we hope you will consider us when purchasing your new composite door.
If you would like more information on our doors please get in touch through the contact us page and if you are still not convinced please read some of our customer testimonials.
Customer Reviews and Ratings 4.9 / 5.0
By

Mrs Wall

, Gateshead, Tyne and Wear.

I was slightly apprehensive about ordering a door online but the quotes from local door companies were far too expensive. I placed the order and within an hour I got a call back from a very friendly and helpful man who double checked everything on the order form before taken payment.

Our door was delivered within 2 weeks and the quality and style exceeded my expectations. LOVE IT! Lots of compliments and would recommend GRP everytime. Thanks : ))
By

Joe Lindsay

, Romsey, Hampshire.

Great website, great service, great product! Working in the building industry myself, having looked around with main stream suppliers, I was very impressed when I came across GRP Composite Doors UK.

Very straight forward and easy to use website and the few queries I did have were answered the next working day. Even more impressed when the actual door turned up; being well packaged, simple and clear instructions and a great looking end product. Having never fitted a front door before let alone frame and side light, it was very easy and really happy with the end result.

Very well made and would definitely recommend anyone to purchase from these guys!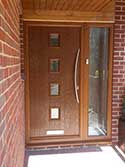 By

Kate Smith

, Barwell, Leicester.

Chris was helpful and gave clear explanations of the technical specs when I phoned for advice and ordered my door. The colour shown on the website proved to be accurate and the information very useful and comprehensive. The door was delivered when I had been advised that it would be and the delivery driver rang me 10 mins beforehand to alert me that he was nearly there.

Everyone I dealt with was courteous and helpful as well as seeming happy to explain things in detail to a complete novice. At the end of the process I have my perfect front door and (if we ever have sunshine again) may put a deckchair on the lawn so I can sit and admire it! Will be pleased to send a photo as soon as it stops raining!
Click here to read more GRP Composite Doors UK customer reviews...