01530 515160
sales@grpcompositedoors.com
Mon-Fri: 9.00 - 17.00
*** 2-3 Week Lead Time ***
DECEMBER Special Offer
£100 Off All Composite Doors
Price Promise Guarantee
We'll beat any online advertised price
Free Nationwide* Delivery
Fast & free delivery throughout the UK*

What is a composite door?
The 44mm thick door leaf is comprised of high-density polyurethane foam, along with a timber sub-frame for extra strength. Aluminium inserts are also used on both sides to prevent the door from warping or bowing. The doors are then finished off with a 2.5mm GRP outer skin, which is completely immune to sun fade and bleaching. These high impact durable skins are injected with a 'through colour' process to ensure that no scratches or blemishes are visible.
Super strong, high security, easy maintenance, excellent thermal efficiency, a lifespan of at least 35* years and the general look and feel of a composite door make it the most popular door choice on the market.
Both sides of the door has a 2.5mm grp (glass reinforced plastic) outerskin that requires very little maintenance - only an occasional wipe clean with a damp cloth will keep the door looking like new and it will never require painting.
Composite doors have now become the preferred choice of entrance doors for many people due to the major advantages that Composite doors have over the alternative wooden doors, steel doors and UPVC doors.
What are the benefits and advantages of composite doors?
44mm thick extra strong door leaf

excellent thermal performance

low maintenance

coloured through 2.5mm grp outerskin

realistic woodgrain appearance

wind and water resistant

no warping, twisting, cracking or bowing

choice of door and frame colours

reglazable cassette system

safe and secure

secured by design locking

fully accredited BS:EN 6375 and PAS24 security standards

35 year lifespan

10 year guarantee
* Information from HAPM (Housing Association Provident Mutual) and BRE (Building Research Establishment)
GRP – The Longest Product Lifespan
| Door Type | Expected Life | Maintenance |
| --- | --- | --- |
| Softwood Door | 25 Years | Paint, 5 Years |
| Hardwood Door | 35 Years | Paint, 5 Years |
| Steel Composite Door | 30 Years | Wipe Clean |
| PVC Composite Door | 25 Years | Wipe Clean |
| GRP Composite Door | 35 Years | Wipe Clean |
| PVC Panel Door | 20 Years | Wipe Clean |
Energy Efficient Outer Frame
All our composite doors are supplied pre hung in a upvc outer frame that has energy efficient recycled reinforcement that offers excellent thermal properties.
Security
We know a secure door is important to our customers, and that's why our range of locks, cylinders and handles adhere to the highest accreditations and industry standards. The combination of these locks and a reliably strong structural frame make our doors unrivalled in terms of the peace of mind they offer. All our doors come with a multipoint locking system and is PAS24 and BS6375 approved and have a kitemarked cylinder lock as standard. Read more about the door security...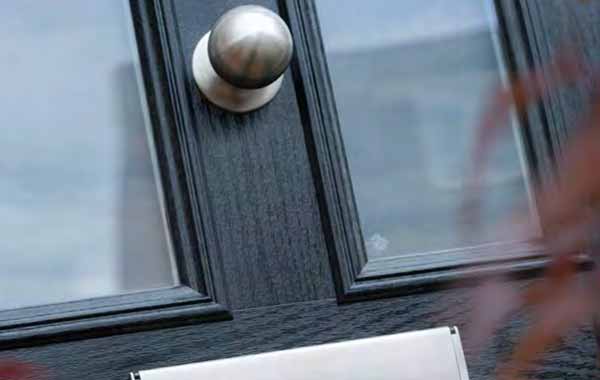 Boast a timber grain effect
Someone clever once said that quality is in the detail. So what does that tell us about plain, white polystyrene-filled panel doors? The timber effect grain of one of our doors gives a rich, classic style to your house – and a very warm welcome home. Now that is clever.
GRP skinned
To give great definition and long life performance, we use glass reinforced plastic skins. For keeping people safe, secure and protected against all weather conditions. It's used today to make the hulls of boats because its super-strong and has exceptional wind and water resistance. That's why we use it for our composite doors.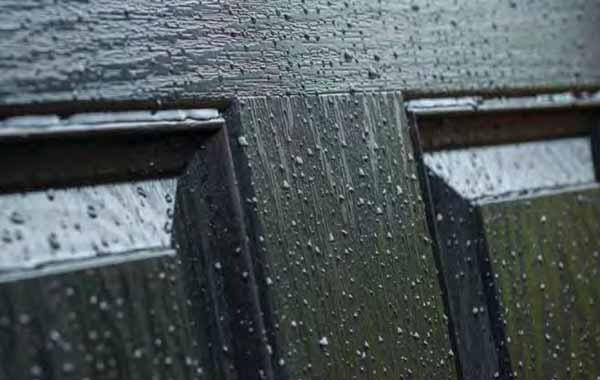 The edges
The hinge edge of your door has a PVC edging. Then we cut through the edging so that whichever hinge you selected sits neatly inside the edge of your door.
To make the door super-strong, the lock edge has been fitted with a full length of 4mm thick, powder coated aluminium lock strip. Then your preferred lock sits flush inside your door.
Reglazable
Making a door to just hold the glass is easy. But have you ever thought about what happens if the glass unit breaks down in that composite door you fitted?
Our unique and patented glazing cassette can be removed from the inside to let you simply change the glass and reuse the cassette. You won't need a new door because it has been damaged whilst trying to follow impossible deglazing knacks and techniques! All our grp composite doors are reglazeable.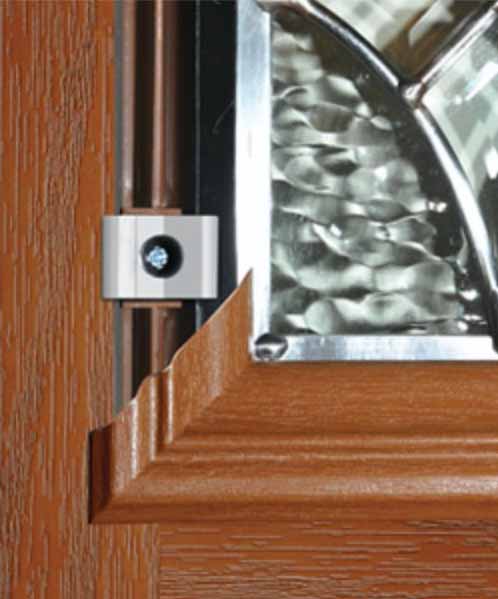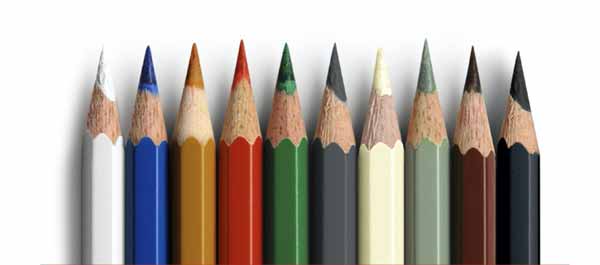 Available in a variety of colours
Would you like your living room or your kitchen to look the same as everyone else's? We thought not. But with PVC panel doors this limited choice comes as standard for the exterior of your home. Express your style with our wide selection of colour options.