External Door & Frame Colours
The composite door can be as individual as you like. You can choose from 13 external door colours; black, blue, green, red and white at no extra cost and the darkwood, oak, chartwell green, cream, grey, black brown, duck egg blue and poppy red finish is available for just a little extra. All of which can be configured with gold, chrome, black, graphite or white hardware.
The solid colours are pre-pigmented which means the colour is added during the manufacturing process so the colour goes on evenly. The oak and darkwood woodgrain colours feature a hand applied stained finish to give depth the woodgrain and the unique 'is it real' look.
Black
RAL 9005
Blue
RAL 5011
Green
RAL 6009
Red
RAL 3003
White
RAL 9016
Darkwood
Oak
Chartwell Green
Cream
Grey
RAL 7016
Black Brown
Duck Egg Blue
Poppy Red
Internal Door Colours
As standard the internal colour of your door will be white. The uniquely co-ordinated details threshold, frame, door drip and edges combine together to make a truly striking appearance. You can choose from the oak or darkwood options in a large range of available door styles.
To have the door and frame coloured on the inside the additional cost will be £90.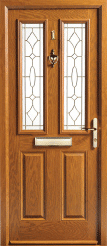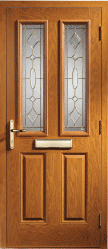 Oak on Oak and Darkwood on Darkwood available in these styles up to 958mm wide.

External Frame Colours
A great selection of external composite frame colours are available for your door, standard white, mahogany (+£35), cherrywood (+£35), oak (+£35), white grain (+£60), black–brown (+£60), chartwell green (+£60), cream (+£60) and grey (+£60). If you require a side panel, the frame colour will automatically match that of the door frame you choose.
| | | | | | | | | |
| --- | --- | --- | --- | --- | --- | --- | --- | --- |
| | | | | | | | | |
| White | Cherrywood | Mahogany | Oak | Whitegrain | Black Brown | Chartwell Green | Cream | Grey |
Threshold and Drip Colours
Even though it is only 15mm high and Part M compliant, the low ali threshold can still be seen from outside. The low threshold will always match the external colour you chose for the door frame. This isn't something you need to select, you just get it as standard.
In the same way that if you order a colour door the aluminium door drip is exactly the same colour. The door drip does a really important job, but with so many beautiful aspects to a GRP composite door you won't want the door drip stealing the eye.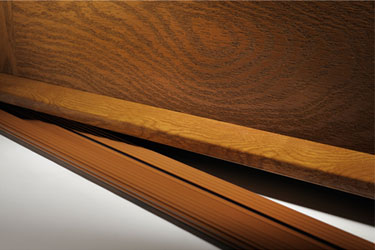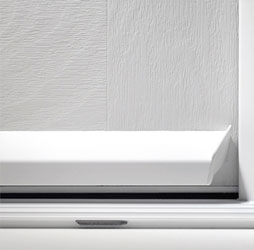 The Edges
We finish the edge of your door with grained PVC. Then we cut through the edging so that the hinge sits neatly inside the edge of your door. To make the door super-strong, the lock edge has been fitted with a full length of 4mm thick, powder coated aluminium lock strip. Then your preferred lock sits flush inside your door. We think about these details so your door lasts for life.