01530 515160
sales@grpcompositedoors.com
Mon-Fri: 9.00 - 17.30
NOVEMBER Special Offer
£100 Off All Composite Doors
Price Promise Guarantee
We'll beat any online advertised price
Free Nationwide* Delivery
Fast 10-15 Day lead time





Trustpilot
Our customers rate us 4.8 out of 5
External FD30S Composite Fire Doors
While our timber hybrid doorsets excel in convenience, they don't compromise on safety. We prioritise ensuring our external fire doors meet the latest fire certification requirements, providing you with the peace of mind that your home and loved ones are protected.
These FD30S external composite fire doors are meticulously constructed from high-quality materials and incorporate advanced fire-retardant features, providing an extra layer of protection against potential hazards.
EXTERNAL FIRE DOOR COMPLIANCE
All our external FD30S composite fire doors are Dual Scope Third Party Certificated for Fire and Security and SBD accredited to BS476 Part 22 and PAS24 Warrington Certifire Scheme. Tested for cold smoke leakage to BS EN 1634-3. They comply with the latest certification of fire protection doors and have been fire tested both sides (bi directionally).
From only £910 inc. VAT & Free delivery
Trusted Fire Doors: 30 Minute Fire Rated
Fully compliant with the latest fire certification requirements, our external fire doors provide unwavering protection against the potential spread of fire, safeguarding your home.
Embrace the peace of mind that comes with knowing your new external FD30S door meets the highest fire certification standards.
External Fire Door Certification

| | 30 minute fire and smoke leakage (FD30S) | Certifire | Certisecure | SBD Accredited | UKCA Mark |
| --- | --- | --- | --- | --- | --- |
| Dual Certification | | | | | |
FD30S External Solid Composite Fire Door Range
FD30S External Glazed Composite Fire Door Range
FD30S Composite External Fire Door Construction
The door leaf is manufactured using a solid timber core with GRP skins applied to front and back, for robust, long life and low maintenance use.
Glass Reinforced Plastic (GRP) is used as part of the door composition due to its relatively light weight and high strength when compared to alternative materials.
The door frame comprises a central timber core with a UPVC outer skin to deliver structural integrity in a fire or security scenario, together with durability, and ease-of-maintenance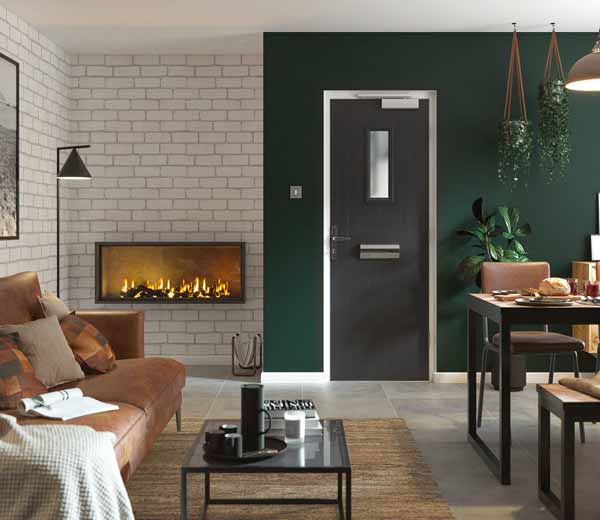 FD30S External Fire Door Colours
Choose from a vibrant palette of eleven fire door colours including black, blue, green, red and white. Or, opt for a more sophisticated look with our chartwell green, cream, anthracite grey, black brown or duck egg blue finishes. Pair your chosen colour with gold or chrome hardware to create a truly personalised entrance.
For a cohesive look, the internal side of the fire door and outer frame are always white as standard. However, optional door colours are available for the inside, allowing you to create a seamless transition from the inside to the outside of your home.

Anthracite Grey
Black

Black Brown
Chartwell Green
Cream
Dark Blue

Duck Egg Blue
Green

Red
Poppy Red
White
Surface Mounted Closer
To ensure your external FD30S fire door installation runs smoothly, not only do we offer the surface mounted closer, we also pre-prepare the door and frame for its fixings ensuring accurate installation every time.
Rack and pinion door closer with v-arm
Variable closing force EN 2-4
Tested and CE marked to EN 1154
Third party certificated by Certifire
Embark on a journey of effortless installation, unparalleled safety and enduring quality with our exceptional timber hybrid 30 minute fire rated external doorsets. Let us help you create a haven of comfort and security that reflects your discerning taste.
For further information on our external composite doors and lead times please contact out friendly sales team.